Kedarnath : Bringing back to life with a new face
---
---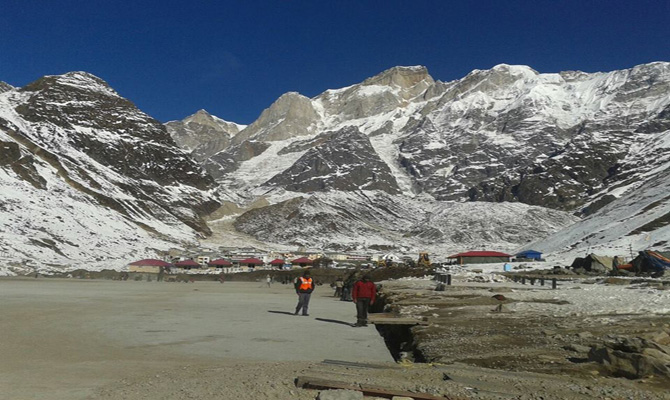 Kedarnath Bringing back to life with a new face
---
---
Direct darshan of Kedar Shrine 500 mtrs before from a pull
The disaster hit state is now all set for the exciting Char Dham Yatra with lot of major changes and more facilities. Earlier, the Shrine was not clearly visible from a certain distance and could be found out only after reaching it. Now the government has removed this isssue too. The pilgrims will be able to sight the uninterrupted view of the holy shrine 500 mtrs before from the bridge. Devotees will also no more have to climb the upright slope of 1 km Rudra Top.
2013 catastrophy left the region in shambles which has now been restored giving it a totally new form. The sight which was earlier visible from the close of the shrine will now be visible 500 mts before from the temple. However, the pedestrian way has been elongated by few mts but at the same time people will get rid of the vertical Rudra Top slope. Nehru Institute of Mountaineering (NIM) team working in Kedarnath has finally found a way to construct 50 feets wide roads. Currently the temple comprises of the stairs which may be accompained by the ramp beside soon. For the comfort of pilgrims decent cottages have also been made in the valley.
Some of the famous rivers have also changed their ways owing to the disaster. Mandakini and Alaknanda rivers which earlier used to meet at Rudraprayag have now merged in one. The construction of ghats on both rivers is also in the process.
Oil extracted by married ladies for sacred Badrivishal
Narendranagar : The oil which is offered to the Badri Vishal after the opening of Badrinath portals was yesterday extracted by Maharani Mala Rajyalakshami Shah along with other married ladies of the valley. After worshipping the Gadu Ghadi (oil pot) late evening it was sent to Rishikesh. Gadu Ghadi will be placed in the temple on April 26 at 5.15 am early in the morning.
In Narendra Nagar, the ceremony of exctracting oil was started by Raj Purohit Sampurnananda Joshi, Pandit Hetram Thapliyal, Mahaveer Prasad and Krishna Prasad Uniyal by the hands of Raj Rajeshwari and at 10 am in the rajmahal.
News Src : AmarUjala, Dehradun
img src : Facebook
---
---
Published Date: April 10, 2015
---
Add Comments and Suggestions or Ask Questions about "Kedarnath : Bringing back to life with a new face"
We would be glad if you can comment below and provide your valuable suggestions and feedback on Kedarnath : Bringing back to life with a new face. If this Kedarnath : Bringing back to life with a new face page have any wrong information/list or out of context content, then you can report us as well.
If you have any questions, you can also ask as in the following comments section. Our team will try to provide you answers/solutions.