Kedarnath decongested under Master Plan
---
---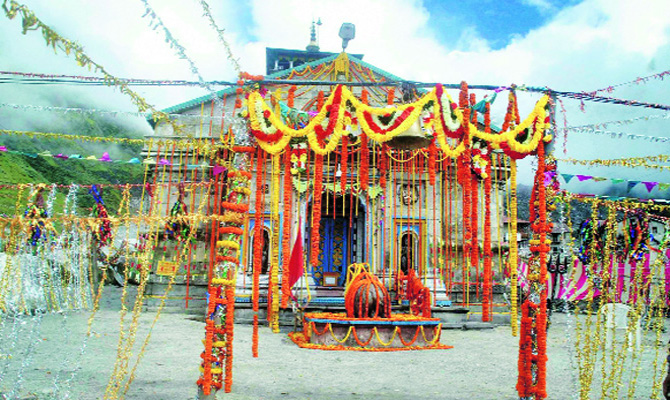 Only 1500 devotees allowed to visit Kedarnath Shrine per day
---
---
In next year visit the adherent of Kedarnath shrine will see a lustrous and clear view of Temple. Because the reconstruction and rehabilitation work of shrine Kedarnath will start after monsoon. This assignment was made possible by the great endeavour of Rudraprayag district officials.
District magistrate Raghav Langer was delegate as ex-officio Resettlement and Rehabilitation Commissioner for Kedarnath. The work of demolition and garbage remove around the temple has been completed. The land acquisition for the development of the undertake path has fulfilled now. Fabrication of the path is advancing.
The resemble path will be laid from Bailey bridge over Saraswati River to the temple. The platform is 70 feet wide and 30 feet stretch on both sides and main path will slightly overhead from the surrounding land. State government would seek an amount of Rs 4000 crore from the center for this enormous reconstruction and rehabilitation plan. To obtain the land, government paid compensation of Rs 17.50 crore to those, who were deprive of property.
The Government has already paid around Rs 9.65 crore to affected families. DM of Rudraprayag Raghav Langer contented with the continuous progress of Temple construction. He said that 32 building and erection flattened for the construction. Total 85 agreement has been signed for acquisition of land if necessary.
---
---
Published Date: July 20, 2015
---
Add Comments and Suggestions or Ask Questions about "Kedarnath decongested under Master Plan"
We would be glad if you can comment below and provide your valuable suggestions and feedback on Kedarnath decongested under Master Plan. If this Kedarnath decongested under Master Plan page have any wrong information/list or out of context content, then you can report us as well.
If you have any questions, you can also ask as in the following comments section. Our team will try to provide you answers/solutions.