Kedarnath Dham visitors must have Corona Test
---
---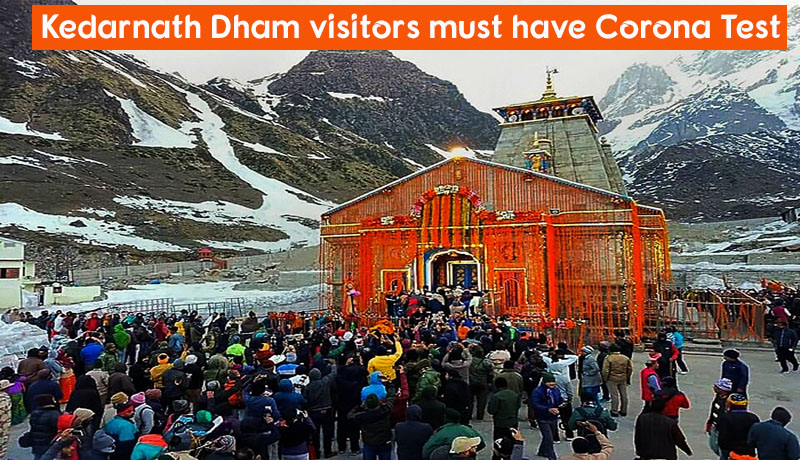 Kedarnath Temple visitors
Corona virus has affected every region of the country. In view of the increasing cases of COVID-19 in Uttarakhand, the Health Department and administration has made it mandatory to check COVID-19 for local pilgrims going to Kedarnath. The devotees will be allowed to go to Kedarnath only if the report comes negative. Till now this rule was applied only to the devotees coming from the other states.
---
---
---
---
In the district for the last ten days, 17 new cases of COVID-19 have been revealed. In such a situation, now the administration and health department do not want to make any mistake at their level. Now people who are coming of Kedarnath Dham have to get their COVID-19 checked. They will be able to go to Kedarnath Temple only if the report comes negative. For the same, Collector Vandana Singh has given instructions to make the arrangement more robust in Sonprayag. He informed that keeping in mind the way in which cases of COVID-19 are increasing, it has been made mandatory to conduct COVID-19 investigation at the local level.
Also, for the Chardham Yatra, since July 1, the Devasthanam Board has issued more than 29000 e-passes. In this, 15,000 pilgrims have visited Chardham shrines. Ravinath Raman, Chief Executive Officer of the Chardham Devasthanam Board, said that 481 e-passes have been issued for Chardham Yatra on Thursday. Also it will be mandatory to follow the rules.
Click Here To Register, Get e-Pass for Chardham Yatra
---
---
Published Date: August 8, 2020
---
Add Comments and Suggestions or Ask Questions about "Kedarnath Dham visitors must have Corona Test"
We would be glad if you can comment below and provide your valuable suggestions and feedback on Kedarnath Dham visitors must have Corona Test. If this Kedarnath Dham visitors must have Corona Test page have any wrong information/list or out of context content, then you can report us as well.
If you have any questions, you can also ask as in the following comments section. Our team will try to provide you answers/solutions.