Kedarnath Heli Service to start in October, Booking Starts
---
---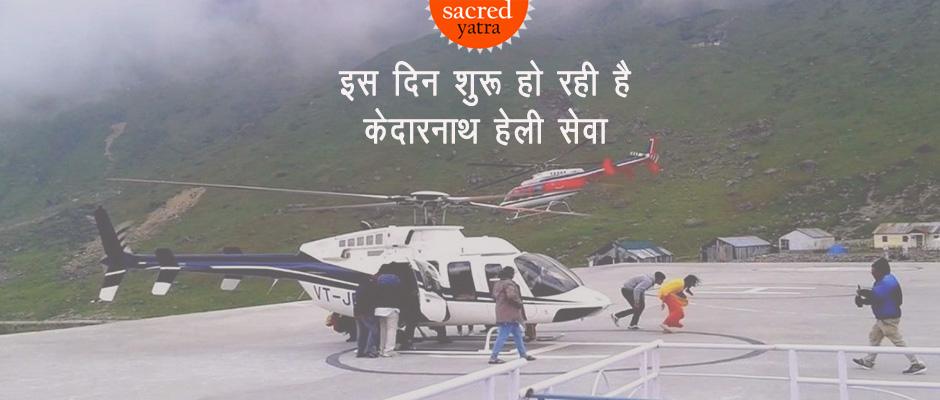 Kedarnath Heli Service to start
Uttarakhand Govt has decided to start Chardham Yatra from 01 Oct for three districts of Uttarakhand. In view of that Heli Service to Chardham may be started from October month too. Booking for Kedarnath Heli Service will start today on 28 Sept 2021.
Heli service will be operated for Kedarnath Dham from October 1. On behalf of the Civil Aviation Department, a proposal has been sent to the Devasthanam Management Board to start the heli service to Kedarnath. 200 e-passes will be issued daily to the pilgrims going through the heli service.
---
---
Uttarakhand Civil Aviation Development Authority (UCADA) is being thinking to start Kedarnath Heli Service from October month. Its been difficult to operate Heli service in these rainy days.
Pilgrims who are unable to walk to visit Kedarnath Dham will get the facility of heli service from October 1. For this, the Civil Aviation Department has made preparations. UCADA has been prepared completely to operate Helicopter Service for Kedarnath Dham. Nine companies has got permission to operate for Kedarnath from Guptkashi, Phata and Sirsi helipads.
Devasthanam Board CEO Ravinath Raman told that a proposal has been received to operate the heli service for Kedarnath from October 1. In which 200 e-passes will be issued to pilgrims going by heli service. Before operating the heli service, DGCA will inspect the safety standards at the helipads of the three locations. Due to bad weather for the next few days, operation of heli service to Kedarnath is not possible.
Earlier in April 2021, more than 11000 pilgrims had done advance Heli booking for Kedarnath Dham, but due to Covid second wave, Govt decided to postponed starting of Chardham Yatra. UCADA had to cancelled all advance booking and refunded amount to all pilgrims.
Click Here To Book Kedarnath Helicopter Tickets
Helicopter Tickets Price to Kedarnath
Last year, the fare per passenger for Kedarnath from three places are provided below. Kedarnath Heli Fare for this year will be updated soon.
| From | To | Charges (One way) |
| --- | --- | --- |
| Phata | Kedarnath | Rs.2360 |
| Sirsi | Kedarnath | Rs.2340 |
| Guptkashi | Kedarnath | Rs.3875 |
---
---
Published Date: September 28, 2021
---
Add Comments and Suggestions or Ask Questions about "Kedarnath Heli Service to start in October, Booking Starts"
We would be glad if you can comment below and provide your valuable suggestions and feedback on Kedarnath Heli Service to start in October, Booking Starts. If this Kedarnath Heli Service to start in October, Booking Starts page have any wrong information/list or out of context content, then you can report us as well.
If you have any questions, you can also ask as in the following comments section. Our team will try to provide you answers/solutions.