Kedarnath Heli Service Restarted After Monsoon
---
---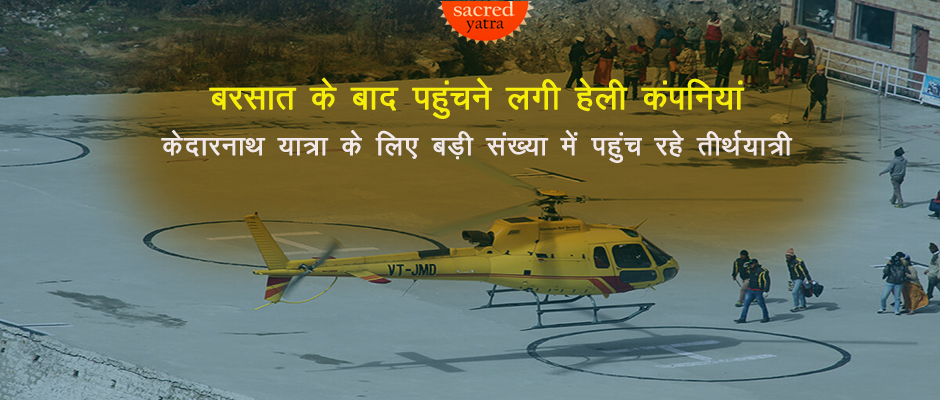 Kedarnath Heli Service restarted after monsoon
Heli companies have started reaching Kedarnath valley for the second phase of Kedarnath Yatra starting this month after monsoon. Currently Heli services to Kedarnath are being provided by three companies from different helipads of Kedarnath valley to Kedarnath Dham. A good number of passengers are arriving daily for tickets at the office counters of heli companies. Other companies are also expected to arrive from September 10. A total of 93,335 passengers have reached Kedarnath by helicopter since the opening of the doors of Baba Kedarnath.
Latest Update
Bookings starts for Kedarnath Heli service from Sept 4, 2022. Know when Kedarnath Dham Doors Closing in 2022
---
---
---
---
9 helicopters of 8 companies had started services in the Kedarnath Yatra that began on May 6 this year. By the beginning of the rainy season, more than 91000 pilgrims had reached the Kedarnath Dham by Heli service. Due to the monsoon rains, helicopters of seven companies had returned till June 30, while a helicopter of the Himalayan company continued to serve for Kedarnath throughout the rainy season. Now heli companies have started returning to Kedar Ghati. Two days ago, helicopters of Chipson and Arrow Heli Aviation started flying for Kedarnath.
Here, Kedarnath Yatra Helicopter Service Nodal Officer and District Adventure Sports and Tourism Officer Sushil Nautiyal said that other heli companies are also expected to reach Kedar Ghati by September 10. He has appealed to the passengers to come on the journey according to the schedule of online booking.
---
---
Published Date: September 6, 2022
---
Add Comments and Suggestions or Ask Questions about "Kedarnath Heli Service Restarted After Monsoon"
We would be glad if you can comment below and provide your valuable suggestions and feedback on Kedarnath Heli Service Restarted After Monsoon. If this Kedarnath Heli Service Restarted After Monsoon page have any wrong information/list or out of context content, then you can report us as well.
If you have any questions, you can also ask as in the following comments section. Our team will try to provide you answers/solutions.