Kedarnath Helicopter Ticket Prices Rise by INR 500/-
---
---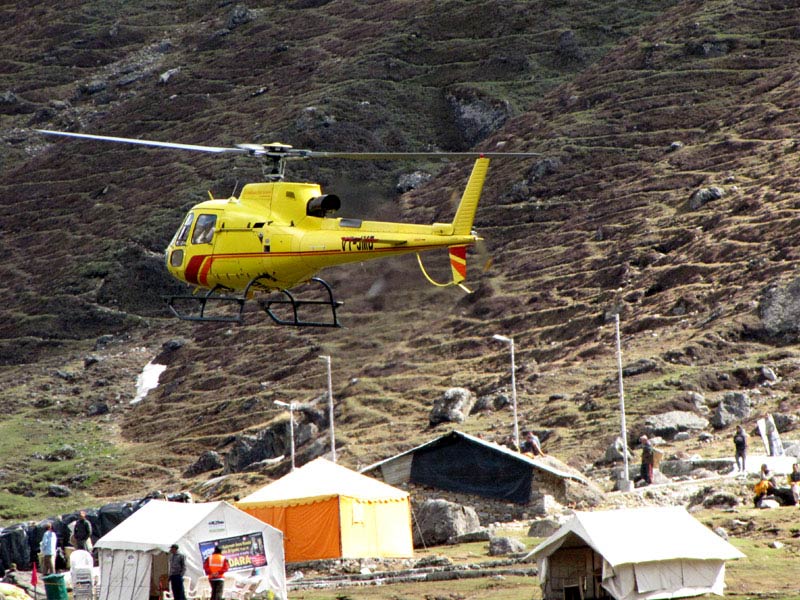 Helicopter service in Kedarnath
After the selection of helicopter operators for Kedarnath, the government has released new rates for this year Kedarnath Helicopter tour. Kedarnath yatra by helicopter now become INR 500/- costlier than last year. Government has increases the air fare to Kedarnath by Rs 500/- per person. Previously there were air fares between Rs 6000/- to Rs 7000/- from four different helipads carrying flights to Kedarnath. These helipads are Phata, Sersi, Guptkashi and Sitapur. Now the Kedarnath airfare will be from Rs 6500/- to  Rs 7500/- per person as per the helipad distance.
---
---
---
---
In early govt UCADA had merged Kedarnath Helicopter Service with Uttarakhand's Regional Connectivity Scheme (RCS). That tender was given to Jindal Group's India Fly Safe Aviation Ltd on Rs 9200/- airfare for Kedarnath. New government had abolish the tender and restart the process. Now 14 companies are choosen to operate in Kedarnath.
Comparision Between Helicopter Fare to Kedarnath in 2016 & 2017
| | | |
| --- | --- | --- |
| Helipads/ Year | 2016 | 2017 |
| Guptkashi | 7000/- | 7500/- |
| Phata | 6500/- | 7000/- |
| Sersi | 6000/- | 6500/- |
| Sitapur | 6000/- | 6500/- |
Also no parking charges will be taken from Heli companies. Operators will pay 10% royalty to the state government which adds more than 8 cr income in state revenue.
---
---
Published Date: May 1, 2017
---
Add Comments and Suggestions or Ask Questions about "Kedarnath Helicopter Ticket Prices Rise by INR 500/-"
We would be glad if you can comment below and provide your valuable suggestions and feedback on Kedarnath Helicopter Ticket Prices Rise by INR 500/-. If this Kedarnath Helicopter Ticket Prices Rise by INR 500/- page have any wrong information/list or out of context content, then you can report us as well.
If you have any questions, you can also ask as in the following comments section. Our team will try to provide you answers/solutions.