Kedarnath Helicopter Tour by Arrow Aircraft @ Rs 7000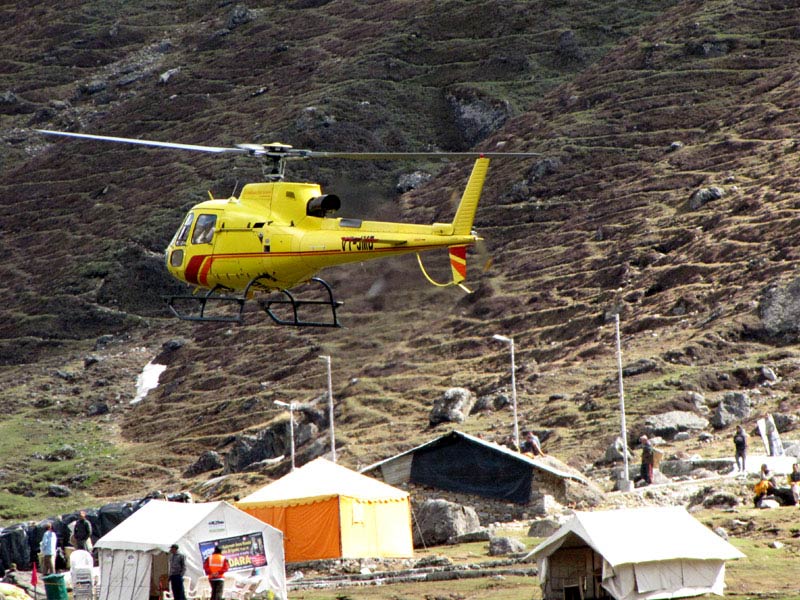 Helicopter service in Kedarnath
Arrow Aircraft provides charter helicopter service from Phata helipad to Kedarnath. Arrow Aircraft offers a safe and budget Kedarnath helicopter flight for the pilgrims visiting Kedarnath Temple. The charter heli service from Arrow Aircraft is available from opening dates of Kedarnath Dham till the closing of the shrine. The service remain closed for some days during monsoon.
Kedarnath is a most sacred holy shrine of Lord Shiva in Uttarakhand. Located at 3,553 mtrs altitude above sea level, Kedarnath temple is visited by lakhs of pilgrims each year. One of the holiest shrine among 12 Jyotirlingas, Kedarnath can be reach via 16 kms trek after Gaurikund or by Helicopter shuttle service.
Arrow Aircraft Tours to Kedarnath Dham From Phata
| | |
| --- | --- |
| Kedarnath Tour Type | Cost Per Person (Above 2 years) |
| Phata – Kedarnath – Phata | Rs 7000 (9% tax extra) |
| Phata – Kedarnath | Rs 3500 (9% tax extra) |
| Kedarnath – Phata | Rs 3500 (9% tax extra) |
Terms & Condition
– The Company reserves the right, without assigning any reason, to cancel, advance, reschedule, over-fly or delay the commencement or continuance of the flight. without incurring any liability in damages or otherwise to the passengers or any other person on any ground whatsoever. The Company reserves the right to refuse to carry any person whom it considers unfit for travel or what in the opinion of the company may constitute risk to the aircraft or to the persons on board.
– Same day Passengers reporting will be in the morning time from 05:30 A.M. to 08:00 A.M. as informed and for night halt passengers reporting will be after 1030 hrs only and their slots will be as informed at Phata Office.
– For same day return you will be given 60 – 90 minutes at Sh. Kedarnath Ji.
– Same day passengers would be given preference overnight halt and one way passengers.
– Passengers are required to produce valid Biometric registration for Kedarnath Yatra. Government of Uttarakhand has made suitable arrangement for this purpose.
– Passengers would be allocated flights on On the first come first serve basis On the basis of booking if arrival time for more than one group is same.
– Passengers are requested to report at the departure heliport at the notified Reporting Time. Passengers reporting beyond this time shall be treated as 'NO SHOW' passengers and the Company reserves the right to allot the seat to other passenger.
– Senior citizens, VIPs, ladies, children, Chartered Passengers and physically handicapped passengers will have priority over all other passengers.
– Passengers are requested to follow all the safety instructions given at the helipad.
– Item of explosive nature, sharp objects like knife, scissors, blades, screw drivers, match boxes, cigarette lighters, firearms, crackers etc. shall not be allowed on board. In case a passenger is carrying any firearm, he has to declare it before hand to the Pilots and deposit it with him along with the license.
– Children above the age of 2Yrs shall be charged full ticket. In case of dispute regarding age of children/infants, valid proof of age shall be the only deciding factor.
– Following documents are accepted as valid Photo IDs; Valid Passport / Valid Driving License / Election Photo ID / Photo ID issued by Govt. / School Photo ID.
– Each passenger is permitted to carry only one handbag weighing not more than 02 Kgs.
– Reporting time is not to be confused with boarding time; boarding time may be between 1 – 2 hours after the reporting time. Passengers are requested to check the reporting time from the company/their agents two days before the journey date.
– Effort will be made to accommodate passenger in their own group. However, due to weight, flight availability or weather conditions, it may not be possible to ensure this. Therefore, the passenger might have to travel alone in separate flights even if you are a part of a Group.
– Operations subject to Govt. of Uttarakhand approval.
– Passengers weighing more than 85 Kgs have to pay Rs.150/Kg as overweight charges on spot and pax more than 120kg will have to take double ticket.
– Rs. 100/- per passenger shall be charged in case of 'Change of Name' request after the issuance of tickets.
– Disputes, if any, are to be settled by Courts in Delhi who will have the Jurisdiction in this regard.
Cancellation Policy
– If ticket is cancelled by more than 72hrs then 10% of ticket cost will be deducted.
– If ticket is cancelled within 24 to 72hrs then 50% of the ticket cost will be deducted.
– If ticket is cancelled Less than 24hrs then 100% of the ticket cost will be deducted.
– If flight is cancelled by Arrow Aircraft Sales & Charters Pvt. Ltd. for technical reasons, passengers are entitled to full refund.
– If flight is cancelled by Arrow Aircraft Sales & Charters Pvt. Ltd. due to bad weather, passengers are entitled to full refund with no assurance of accommodating them for the next day. However, efforts shall be made to accommodate the passengers on the next date of flying, if possible.
– In the case of a return ticket, if one leg of the journey is completed and the other leg is not completed either due to technical reasons or weather conditions, the passenger shall be entitled to refund of balance amount after one-way ticket cost.
– The company is not liable to provide boarding/lodging/transportation to the passengers if the flight is not operated due to any reason either from Phata or Kedarnath.
Check out other Helicopter Tours from Arrow Aircraft : Arrow Aircraft Helicopter Packages
Know more about Kedarnath Dham : Kedarnath, Kedarnath Temple, Kedarnath Important Dates, Kedarnath Packages, Kedarnath Places to See, How to reach Kedarnath, Kedarnath News, Char Dham Tours
---
---