Kedarnath Movie Cast-Crew Reach Sitapur, Shoot Will Start from 3 Sep
---
---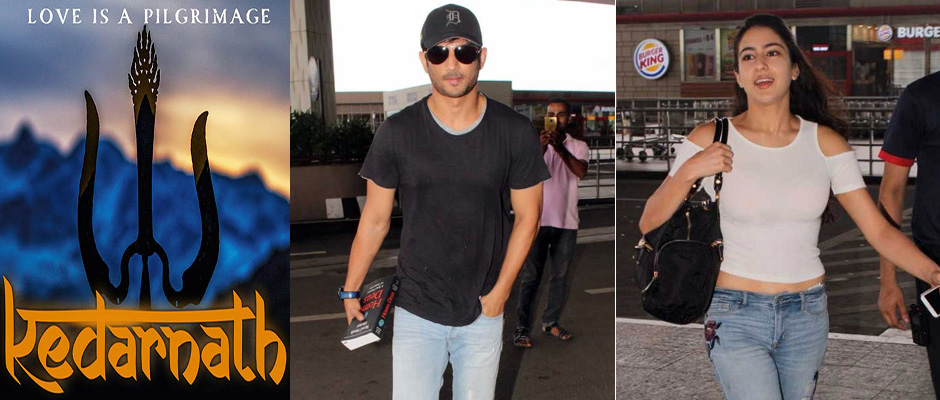 Sushant Sara at Jollygrant Airport
The cast and crew of movie forthcoming Kedarnath movie has reach Sonprayag for shooting. The film will shoot at locations of Triyugi Narayan Temple, Sonprayag and Kedarnath Temple and shooting will start from 03rd September. Saif Ali Khan's daughter, Sarah Ali Khan along with actor Sushant and director Abhishek has been reached at Sitapur to shoot film Kedarnath.
---
---
---
---
The film's unit has already started visiting the locations. It is being told that other crew connected to the film team will be there till the end of this week.
Director Abhishek Kapoor, actor Sushant Rajput and actress Sarah Ali Khan have reached Sonprayag for the Hindi feature film to be shot on Kedarnath Dham. Together with the unit, these people visited the shooting side on the Trigunarayan Temple and other areas including the village.
Twenty members of the film unit reached Sitapur on Sunday evening at four o'clock. After breakfast, all these people left for Trigunarnarayan. After reaching the village, the team visited the whole area after the temple's philosophy.
Film producer Amit Mehta said that the technical staff of the movie has reached with the main cast. Others will reach the end of this week. On the other hand, all arrangements have been made in the hotel to protect the people of the film unit by the administration.
Police jawans have been deployed for the security. It is being told that the unit of the film will inspect the shooting places for the next two to three days. During this period, police and administration officers / employees will also be present for security and arrangements.
---
---
Published Date: August 28, 2017
---
Add Comments and Suggestions or Ask Questions about "Kedarnath Movie Cast-Crew Reach Sitapur, Shoot Will Start from 3 Sep"
We would be glad if you can comment below and provide your valuable suggestions and feedback on Kedarnath Movie Cast-Crew Reach Sitapur, Shoot Will Start from 3 Sep. If this Kedarnath Movie Cast-Crew Reach Sitapur, Shoot Will Start from 3 Sep page have any wrong information/list or out of context content, then you can report us as well.
If you have any questions, you can also ask as in the following comments section. Our team will try to provide you answers/solutions.