Kedarnath ready to welcome pilgrims
---
---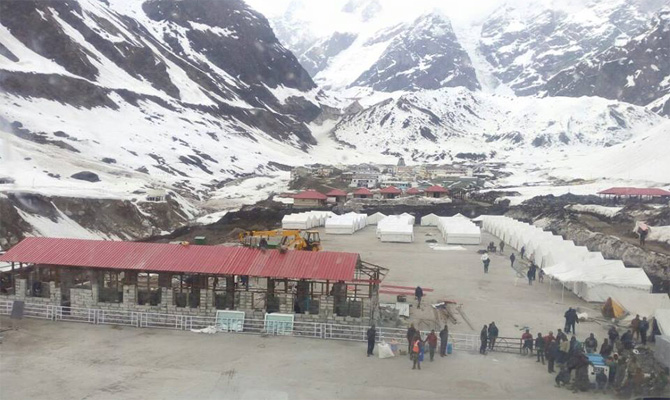 Kedarnath ready to welcome pilgrims
---
---
Kedarnath is all set with the special arrangements and facilties for the devotees visiting for the pilgrimage this year. Several cottages and huts have been constructed for the lodging facility of the pilgrims. For the food facility the canteen work under assigned GMVN is also going on at full swing. But the climb to the uphill pedestrian way for the tourists is still no less than a challenge.
Kedarnath portals are scheduled to open on April 24, 8 : 50 am which is currently covered under the 8 – 10 ft blanket of snow. Workers have been deployed in the Kedarnath temple for the regular removal of the frozen snow on the parikrama circuit. The snow on the roof of the shrine is almost completed. Chances of percolation of water into the building are there through the chapped and fractured walls of the back portion of the temple for which the work is underway to prevent the seeping water. The walls are being repaired by sculpting the stones brought from Mandakini river with traditional figures. These stones will be fixed on the back and right portion of the temple building. The whitewash work is about to get over on the outer walls which is in its last stage. The snow is scattered everywhere in the Kedar valley including the banks of river.
With the normal weather conditions the workers have removed the snow from many parts of the temple. The path blocked from helipad to Kedarnath shrine was cut down and paved way to approximately 50 ft through the 10 ft snow. A new temporary route has been made for the temple.
The work of tiled flooring is going on in the temple. And the nearby houses are being demolished which will now lead to a clearer view of the shrine from 100 mtr distance. The lodging and restoration work is in the progress under the supervision of NIM Colenel, Ajay Kothiyal.
Tents to increase in Kedarnath
CM Harish Rawat said the number of pilgrims to expected to reach 5000 per day for which suitable arrangements will be made accordingly. The number of tents will also be increased with the rising number of people.
News Source : Hindustan, Kedarnath
img src : Facebook
---
---
Published Date: April 22, 2015
---
Add Comments and Suggestions or Ask Questions about "Kedarnath ready to welcome pilgrims"
We would be glad if you can comment below and provide your valuable suggestions and feedback on Kedarnath ready to welcome pilgrims. If this Kedarnath ready to welcome pilgrims page have any wrong information/list or out of context content, then you can report us as well.
If you have any questions, you can also ask as in the following comments section. Our team will try to provide you answers/solutions.