Kedarnath & Yamunotri Receives First Snowfall of Season
---
---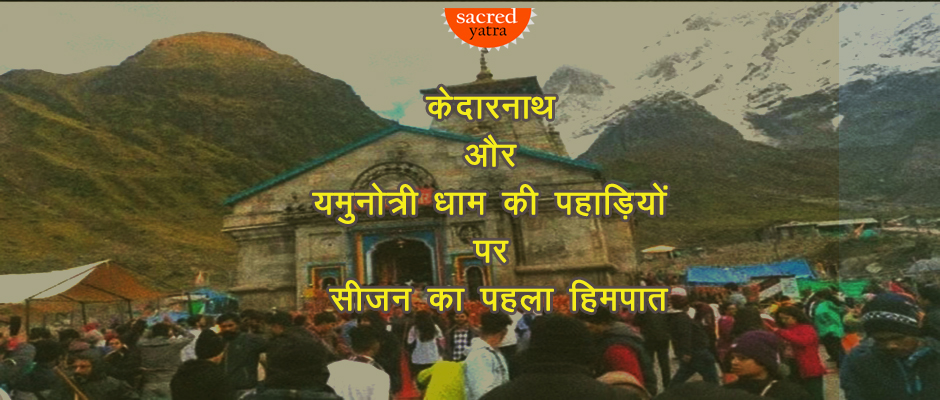 Kedarnath Dham First Snowfall 2022
The mood of the weather changed in the hilly areas of Uttarakhand late on Monday night. After which the first snowfall of the season occurred on the hills of Kedarnath and Yamunotri Dham in the early hours. At the same time, due to the recent rains and now snowfall, the cold has also started increasing in the CharDhams.
---
---
---
---
Sapta Rishi Kund, Kalindi Parvat, Bandarpoonch, Garud Ganga top above Yamunotri Dham received snowfall in the early hours. After light snowfall, the weather has become pleasant in Dham as well. On the other hand, the Queen of Hills, Mussoorie, Dhanaulti and Kampti are receiving light rain since late Monday night. After the rain, there is light fog in Mussoorie also. At the same time, the cold has started increasing.
Even after the rain, the enthusiasm of the devotees of Baba Kedar is not decreasing. The number of visitors to Kedarnath has reached more than 12 lakhs. For the last ten days, the number of devotees in the Kedarnath Dham is increasing every day.
Only 37 Days Left for Kedarnath Temple Closing
This year only 37 days are left for the journey to Kedarnath Dham. The way the number of pilgrims is increasing, it is expected that by the time when Kedarnath Temple's doors get closed, the number of pilgrims can reach 15 lakhs. In view of the rush of devotees, the Kedarnath temple is also opening for 14 to 15 hours.
No Entry to Kedarnath Temple Garbgrih
The entry to the sanctum sanctorum of the Kedarnath temple has been temporarily closed due to the rush of pilgrims. Now devotees are being offered darshan from the sabhamandap itself. Now darshan is starting from 5 in the morning, which is being done till 3 in the afternoon. After this, Bhog is being offered to the idol, due to which the temple is being closed for one to one and a half hours. Darshan in the temple is starting again from 4.30 pm, which is being done till 9 pm.
---
---
Published Date: September 20, 2022
---