Kedarnath route hampers while Badrinath Highway open
---
---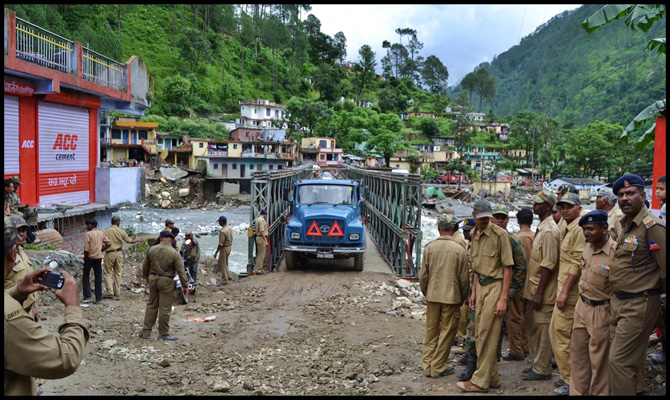 BRO personnel, unsung heroes of yatra preparations
---
---
Today the Kedarnath route has been obstructed due to debris which has fallen from the terrrains. While, the Badrinath Highway is functioning smoothly. In the morning the debris fell from the mountains of Junglechatti due to which the walkabout has been temporarily closed. The Adminstartion has halted around 300 pilgrims at Sonprayag.
The BRO officials have been working day and night to open the pilgrim walkway. Meanwhile, the Badrinath National trunk road has been opened. Around 300 pilgrims came to Badri Vishal for visiting the shrine. After the Weather Bureaus forecast the Administration has advised the pilgrims to go back today. Whereas, the yatra is still contuining in Gangotri, Yamunotri and Hemkund. More then 400 pilgrims had proceeded from Govindghat to Ghangaria for Hemkund Sahib today.
News Source : Jagran, Dehradun
---
---
Published Date: July 5, 2015
---
Add Comments and Suggestions or Ask Questions about "Kedarnath route hampers while Badrinath Highway open"
We would be glad if you can comment below and provide your valuable suggestions and feedback on Kedarnath route hampers while Badrinath Highway open. If this Kedarnath route hampers while Badrinath Highway open page have any wrong information/list or out of context content, then you can report us as well.
If you have any questions, you can also ask as in the following comments section. Our team will try to provide you answers/solutions.