Kedarnath Temple Will be Decorated with Local Flowers, Ban on Plastic Flowers
---
---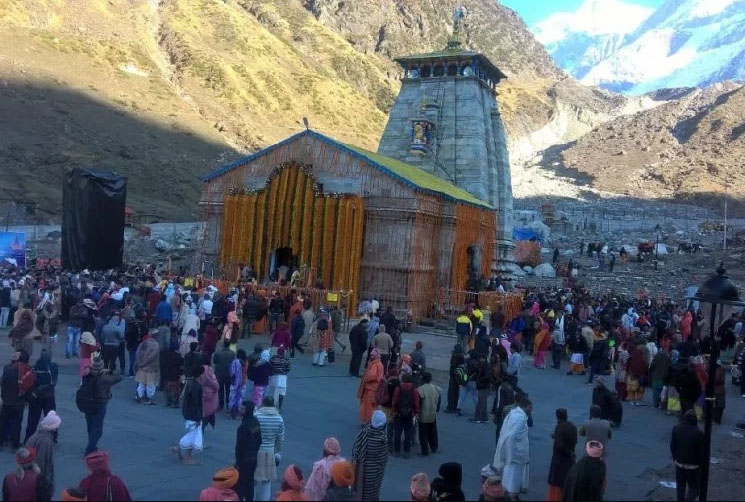 Kedarnath Temple 2018 Opening Day Photo
This Year on the opening day of Kedarnath Temple, plastic flowers will not be used to decorate the temple but the temple will be decorated with local flowers. Not only this, local flowers will be offered in the temple during the entire journey. Apart from this, plastic flowers have also been completely banned in Kedarpuri.
---
---
Plastic Flowers have been completely banned in Kedarnath
Kedarnath Yatra is the main employment of the people of Kedarnath. Keep in this mind, the administration wants to decorate the temple with local flowers on the occasion of opening. So that a strong platform of employment can be developed at the local level. At the same time, pilgrims coming to Kedarnath from all over the world can also get acquainted with the culture here. In fact, to decorate the Kedarnath temple on the occasion of the opening of the doors, more than 15 quintals of flowers have to be brought from other places including Delhi. It costs up to two lakhs. Now, decorating the temple with local flowers will not only reduce the cost but also benefits the local people. Apart from this, the ban on plastic flowers in the travel season will also increase the demand for real flowers.
Flowers are cultivated in 3 blocks of Rudraprayag District
In the Rudraprayag district, the cultivars of Marigold Flower (गेंदे का फूल) are being cultivated in different villages of Ukhimath, Jakholi and Augustmuni block. Apart from this, Local organizations (स्वयं-सेवी संस्थाएं), progressive farmers and common people are also being encouraged for this by the administration.
Flowers market will be planted at Sonprayag and Kedarnath
District Magistrate Mangesh Ghildiyal said that for the sale of flowers, flower shops will be planted in Sonprayag and Kedarnath on behalf of the administration. He also told that 50 shops have been allocated to local traders in September 2018 for the market for the first time in Kedarnath. These shops will be selling hill products with flowers.
By making Prasad, more than 2000 local women got employment
In the Kedarnath last year, a local Prasad scheme was launched on the initiative of DM. In this, more than two thousand women of the district got employment and during last year's Kedarnath Yatra more than one crore rupees Prasad's were sold.
---
---
Published Date: February 22, 2019
---
Add Comments and Suggestions or Ask Questions about "Kedarnath Temple Will be Decorated with Local Flowers, Ban on Plastic Flowers"
We would be glad if you can comment below and provide your valuable suggestions and feedback on Kedarnath Temple Will be Decorated with Local Flowers, Ban on Plastic Flowers. If this Kedarnath Temple Will be Decorated with Local Flowers, Ban on Plastic Flowers page have any wrong information/list or out of context content, then you can report us as well.
If you have any questions, you can also ask as in the following comments section. Our team will try to provide you answers/solutions.