Kedarnath Temple Reopens for Devotees
---
---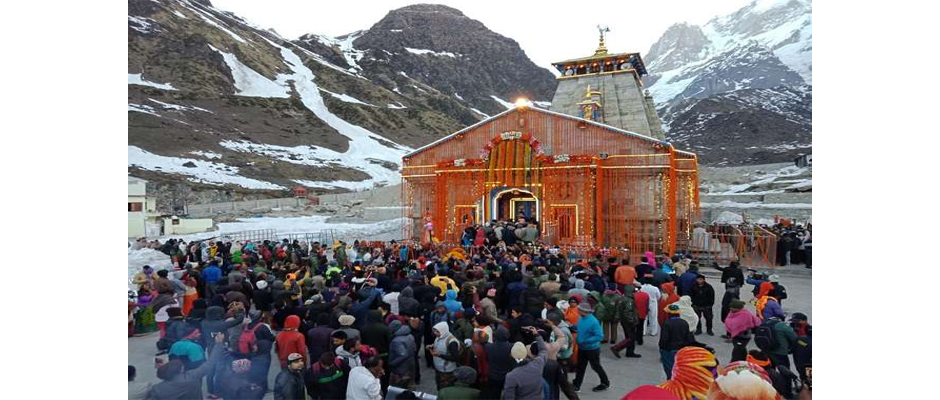 Kedarnath Temple on Opening Day 2019
After the winter migration, the doors of Kedarnath have been opened at 05:35 am for all the devotees. Now for the next six months, the worship of Kedar Baba will be here. Pilgrims coming from all over the world will be able to take blessings of Kedar Baba. On the occasion of the opening, more than 5 thousand devotees have visited the temple. From 4 o'clock in the morning on Thursday morning, the preparations for the opening of the Kedarnath temple were started by the temple committee. Chief Priest Kedar Ling feed Bhog to the Utsav, after which Doli was decorated with flowers. Kedarnath Raval Bhimashankar Ling and other priests chanted Shloka as per Vedic traditions.
---
---
---
---
Kedarnath Temple open to devotees at 05:35 am in the morning
The sealed door of the temple was opened at exactly 05:35 am. Doli entered the temple. First of all the priests enters the temple and cleaned up the sanctum sanctorum. Worship was done inside the temple, after which at 6 am the doors of the temple were opened to all the devotees. On this occasion, Raval Bhimashankar Ling of Kedarnath Dham, MLA Haridwar Ramesh Pokhriyal Nishank, Tirtha Purohit Srinivasa Potti, Deputy Chairman of Temple Committee Ashok Khatri, Chief Executive Officer of Temple Committee BD Singh, Executive Officer NP Jamloki, Senior Administrative Officer Temple Committee Rajkumar Nautiyal, temple supervisor and Doli in-charge Yudhvir Pushpawan, Vedpathi Yashodhara Maithani, Vedpathi Vishwamohan Jamloki were present among devotees in large numbers.
---
---
Published Date: May 9, 2019
---
Add Comments and Suggestions or Ask Questions about "Kedarnath Temple Reopens for Devotees"
We would be glad if you can comment below and provide your valuable suggestions and feedback on Kedarnath Temple Reopens for Devotees. If this Kedarnath Temple Reopens for Devotees page have any wrong information/list or out of context content, then you can report us as well.
If you have any questions, you can also ask as in the following comments section. Our team will try to provide you answers/solutions.