Kedarnath & Yamunotri Dham Kapats closed today, Badrinath on 19 Nov
---
---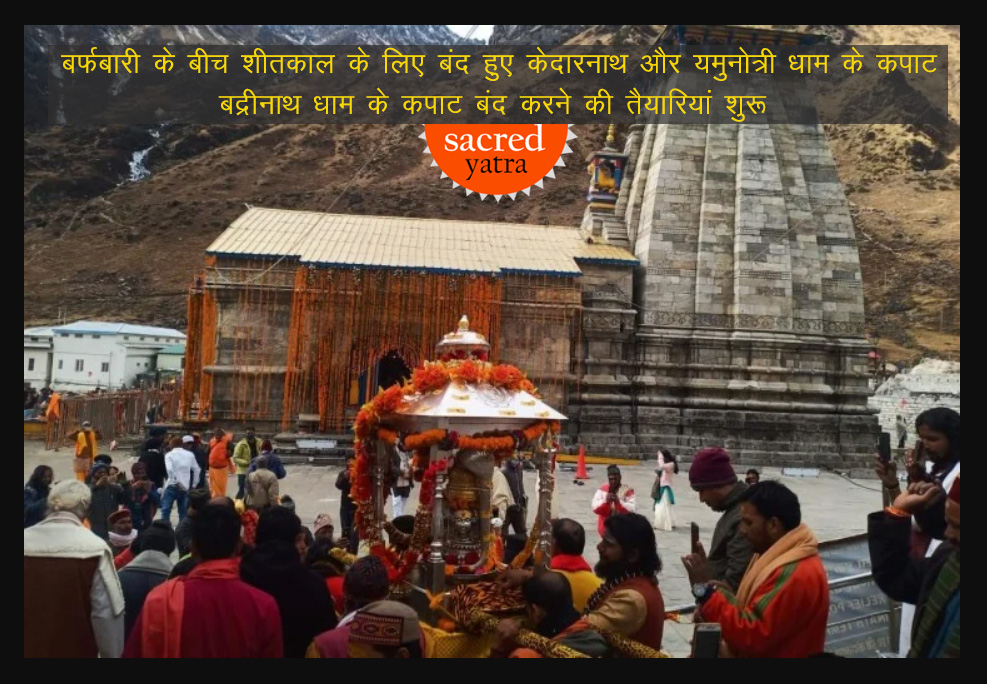 Kedarnath & Yamunotri Dham Kapats closed today, Badrinath on 19 Nov
The shrine of Kedarnath Dham have been closed with rituals for the winters at 8.30 am amid snowfall. Uttar Pradesh Chief Minister Yogi Adityanath and Uttarakhand Chief Minister Trivendra Singh Rawat, Cabinet Minister Madan Kaushik, Minister of State Dhan Singh Rawat etc. were present on the occasion.
The doors of the Kedarnath shrine were closed at 8.30 am this morning for the winters. During this time, the doors of the sanctum sanctorum of the temple were closed, but due to continuous snowfall, the temple gate and dolly departure was delayed.
Baba Kedar Panchmukhi Bhogamurthy, while seated in the Chal Vigraha Doli, will reach the first stop at Rampur, leaving for the winter paddist Omkareshwar Temple Ukhimath, while on 18th Nov, Baba Kedar Panchkadar Gaddisthal Omkareshwar Temple will be enshrined for six months of worship at Omkareshwar Temple Ukhimath.
---
---
---
---
Special worship began at Kedarnath from 2 am on the holy festival of Bhaiya Dooj. Baba Kedar's Swayambhu Jyotirlinga was consecrated by Chief Priest Shiv Shankar Linga and covered with bhasma.
At 4 O'Clock in the morning, Bhogamurthy was kept in the temple premises for the devotees, while seated in the moving festival Vigraha Doli. Along with completing other religious ceremonies, the doors of the sanctum sanctorum of the temple were closed at 5.30 am.
Yamunotri Dham Kapat Closed Today
Yamunotri Dham kapats has been also closed for the winters today on Bhaiya Dooj. The festive idol of Yamunaji will be brought to Kharsali village with a doli yatra. Yamuna temple is being decorated in Kharsali.
Gangotri Dham Kapat Closed on 15 Nov
On 15 November, the Kapat of Gangotri Dham, one of the Char Dham in Uttarakhand, have been closed for the winter. About 23 thousand people visited the Gangotri Dham this year.
Badrinath Dham Kapat Closing Started
The process of closing the doors of Lord Badrinath for the winter season began with Panch Puja from Sunday. The Ganesh temple doors were closed for the winter season after duly worshiped at 3 pm. Panch pujas are performed before the Kapat of Badrinath Dham closes for the winter.
On November 19 this year, the doors of Badrinath Dham will be closed. Under this, the doors of Ganesh temple were closed after worship on Sunday. Kedarnath kapat closed today. The Vedic recitation will stop on 17 November and Mahalakshmi Puja will take place on 18 November.
After that, on November 19, at 3:35 pm, the doors of Badrinath Dham will be closed for the winter. On November 20, at half past nine in the morning, Uddhav ji and Kubera ji's and Adi Guru Shankaracharya's throne will depart for Yogadhyan Badri temple Pandukeshwar. On November 21, at 10 am, the throne of Adi Guru Shankaracharya from Shri Yogadhyan Badri Temple Pandukeshwar will reach Shri Narsingh Temple, Joshimath.
---
---
Published Date: November 16, 2020
---