Lesser Pilgrims Affects Chopper Business in Kedarnath
---
---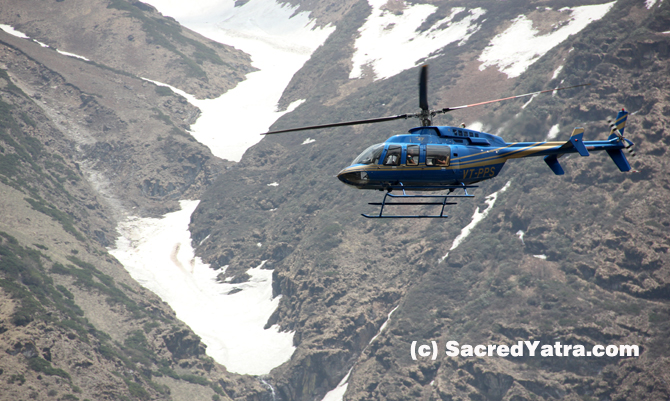 Helicopters in Kedarnath
Chopper service in Kedarnath Dham
---
---
Due to the low pilgrims visit this year in Char Dham Yatra in State, the business of private choppers services being hit mostly. Most of the company offering Helicopter flights to Kedarnath, leads to winding up of their operations in Uttarakhand.
Organizations are again resuming the services from 15th of the September with expectation of large number of pilgrims for Yatra by their chopper services. One of the Pilot of Helicopter services company said, "Earlier in Uttarakhand due to heavy rains and natural disaster these services had to stop but now due to poor response companies are not ready to work".
In May, when the doors of Kedarnath and Badrinath were opened, 6 companies were given the license to operate chopper services in Yatra to Char Dham. But as per now only out of 3 big companies only one Himalaya Heli Service is offering services from Sirsi near Fata to revered Temple in a weak. Earlier more than 500 Pilgrims use to take the chopper services which have been reduced to 30 only.
Rajiv Langar, District Magistrate said, "It is unusual that during this time the number of Pilgrims has fallen down and there are no takers of chopper services". He also admitted that the numbers of Visitors are reduced to 10% as compared to previous year. However 459 pilgrims used the Helicopter service to Badrinath and Kedarnath Temple. The Chopper made 34 Sorties on Sunday shipped 175 devotees to Temple and 189 back. Other words by DM were, "The number of pilgrims will improve next year even though government has decided to continue Yatra for Char Dham facilities in winters".
Other companies like Pawan Hans Helicopters Limited will be operating their choppers services between Sirsi and Kedarnath from September 25.
---
---
Published Date: September 24, 2014
---
Add Comments and Suggestions or Ask Questions about "Lesser Pilgrims Affects Chopper Business in Kedarnath"
We would be glad if you can comment below and provide your valuable suggestions and feedback on Lesser Pilgrims Affects Chopper Business in Kedarnath. If this Lesser Pilgrims Affects Chopper Business in Kedarnath page have any wrong information/list or out of context content, then you can report us as well.
If you have any questions, you can also ask as in the following comments section. Our team will try to provide you answers/solutions.