Lord Badrinath Chatra to be Changed After 600 Years
---
---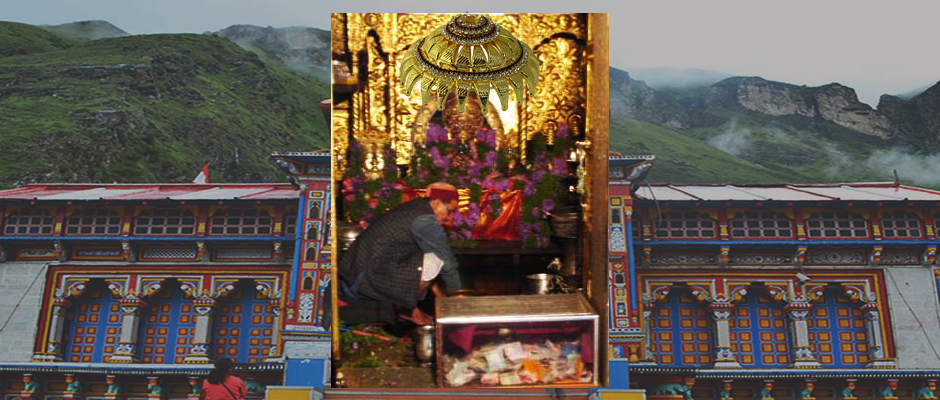 New Chatra for Lord Badrinath
The Chatra of Badrinath Dham is going to change after 600 years. The Chatra is being prepared in Mumbai, which is in the final stages. The Mukt family of Ludhiana has got the opportunity to serve the Chatra of Badrinath Dham. Gyaneshwar Sood of the Mukt family told that he first went to Badrinath Dham in 1989. He is also the Advisor of Badri Kedar Temple Committee.
---
---
The present Chatra of Badrinath Dham is 600 years old. The new Chatra which is made of gold, diamond and gems will be installed on May 9 2018 in Badrinath. At present there is an old gold Chatra in Badrinath Dham. This Chatra of gold is about two kilograms, which was donated by Ahilyabai Holkar, the Queen of Madhya Pradesh.
BD Singh, Chief Executive Officer of Badrinath-Kedarnath Temple Committee (BKTC) said that in October last year, Ludhiana businessman Gyanendra Sood had expressed his desire to offer a gold Chatra in Badrinath Dham. They were allowed to offer Chatra. This time the Chatra will be brought from Ludhiana to Badrinath Dham on May 8 with a group of about three hundred pilgrims. On May 9, the parade will be taken in Badrinath Dham along with the worship and Chatra.
Gyaneshwar Sood told that his grandfather Guru Maharishi Mukti Ji had visited Shri Badrinath Dham for the first time in 1918. This year is celebrated as century year of his grandfather's Badrinath Yatra in the vicinity of Sadhguru Dev Sant Pratishtha Maharaj.
4 Kg Gold Diamond Gems Chatra for Lord Badrinath
The Chatra is being made of 4 kg gold and diamonds and gems. Gyaneshwar Sood told that this Chatra is made of 4 kg gold. Also the Chatra is embedded in diamonds and gems. The design of the chatra is being done by himself.
Badrinath Dham Chatra will unveil first time in Ludhiana
Gyaneshwar Sood said that this Chatra of Lord Badrinath will be brought to Ludhiana from Mumbai under tight security. Go Sevak Vijay Abrol said that the Chatra will be unveiled on 7th April at Ramrajya farm, Baddowal. Saints from all over the country will be specially present in the unveiling ceremony. After the unveiling, the Chatra will be placed in the Badewal road. Devotees can take darshan of new Chatra on every Saturday till May 7.
---
---
Published Date: April 6, 2018
---
Add Comments and Suggestions or Ask Questions about "Lord Badrinath Chatra to be Changed After 600 Years"
We would be glad if you can comment below and provide your valuable suggestions and feedback on Lord Badrinath Chatra to be Changed After 600 Years. If this Lord Badrinath Chatra to be Changed After 600 Years page have any wrong information/list or out of context content, then you can report us as well.
If you have any questions, you can also ask as in the following comments section. Our team will try to provide you answers/solutions.