Madhyamaheshwar Temple opens to Devotees
---
---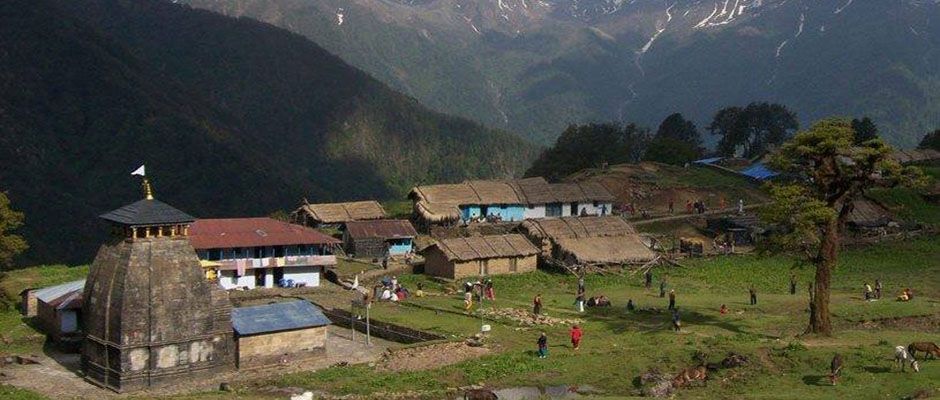 After the winter migration, the door of second Kedar Madhyamaheshwar Temple was opened today at 11:00 am in the morning. On Monday, the palanquin of Baba Madhameshwar reached the final stop Gondar village for the night stay. The villagers worshiped the Lord with flowers and Sweets. Baba Madmeshwar's doli arrived at Gondar village at 10.30 am. In the direction of Deepak Rawat, teacher of Govt Primary School Gondar, the school children welcomed Lord Mademeshwar. Chief priest Bagesh Ling worshiped the palanquin of Lord. Earlier this morning, at 7 am, chief priest of the temple offers prayer at the Rakeshwari temple located at Ransi village.
---
---
---
---
Madhymaheshwar Temple open to devotees at 11:10 am
After all religious formalities, at 8.00 am, the Doli of God Madhameshwar, departing from Ransi village, left for his dham. On this occasion, the women accompanied the traditional Jagar and Mangal songs to God for Dham. People kept watching the doli until they disappeared from the eyes. On this occasion, there were a large number of devotees including Doli in charge, Bachan Singh Rawat, Shiv Singh Rawat, village head Roop Singh Negi, Rakesh Singh Negi, etc. were also present.
---
---
Published Date: May 21, 2019
---
Add Comments and Suggestions or Ask Questions about "Madhyamaheshwar Temple opens to Devotees"
We would be glad if you can comment below and provide your valuable suggestions and feedback on Madhyamaheshwar Temple opens to Devotees. If this Madhyamaheshwar Temple opens to Devotees page have any wrong information/list or out of context content, then you can report us as well.
If you have any questions, you can also ask as in the following comments section. Our team will try to provide you answers/solutions.