Madmaheshwar Temple opened today
---
---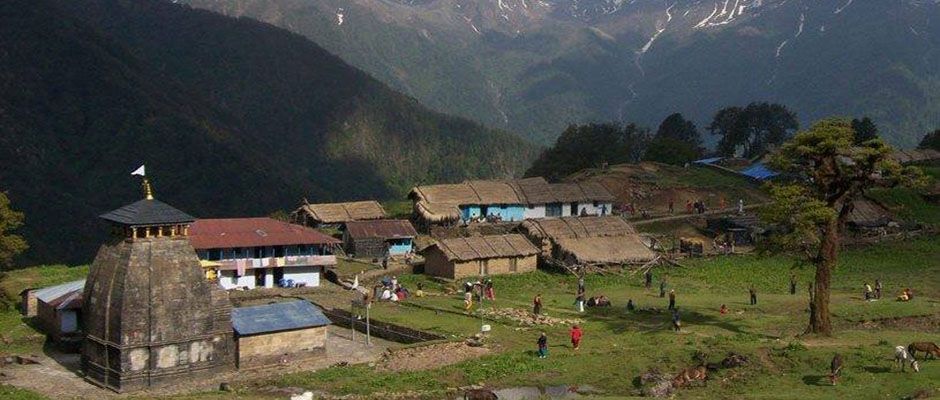 The gates of the fourth Kedar, Lord Madhmaheshwar (Madhyamaheshwar) in Panch Kedar has been opened today with Vedic Mantras at 11:00 am. Lord Madhmaheshwar resides in Omkareshwar Temple in Ukhimath during winter. Let us tell you why this temple of Lord Madhmeshwar is special.
There is a mixed confluence of faith, devotion and natural beauty, in Madhameshwar Dham, where Lord Shiva himself appears in the navel form. One of the Panch Kedars, God Madhamhishwar has his own distinct belief.
---
---
---
---
Madhyamaheshwar Temple – Importance & Location
Madhyamaheshwar Temple is located in Manasuna village in Rudraprayag district. Located at an altitude of 3,497 meters above sea level, this temple is surrounded by huge mountains all around, and its natural beauty is very attractive. In the Panch Kedars, Kedarnath, Madhmaheshwar, Tungnath, Rudranath and Kalpeshwar are included in the order of peaks. Thus, the temple Madhyeshwar Temple comes in second place in pilgrimage.
Lord Shiva's stomach (navel) is worshiped in Madhmaheshwar. According to a common belief, this temple was built by Pandavas. According to another belief about this temple, it is said that Bhima had built this temple to worship Lord Shiva. In the courtyard of this temple, "middle" or "bull's belly" or "navel (navel) is considered as the divine form of Lord Shiva. The architecture of this temple is made of the North Indian style. This temple is situated in a grassy area.
In the present temple, a navel-shaped Shiva-Lingam, made of black stone, is situated in the holy place. There are two other smaller shrines, one is dedicated to Shiva and Parvati and other Ardhanarishwar, which is the form of half-Shiva half-Parvati. On the right side of the main temple there is a small temple, which is a statue of Goddess Saraswati made of marble in the sanctum sanctorum. The silver statues of this temple are transferred to Ukhimath in winter.
The silver statues of this temple are transferred to Ukhimath in winter. The water of this temple complex is considered to be highly sacred. Of which few drops get freedom from sin only by bathing. In this temple the priests belong to South India. Madhmaheshwar is one of the important sacred pilgrim centers which has been classified as Panchasthali (five places) theory.
Story behind Panch Kedar
It is believed that after the war of Mahabharata, Pandavas wanted freedom from their sins. That is why Lord Krishna had advised Pandavas to get the blessings of Lord Shankar. Therefore Pandava reached Varanasi to get the blessings of Lord Shankar. But Lord Shiva, angry with Pandavas, came to Varanasi and hidden in Guptakashi. When Pandavas find the secret of Lord Shiva and find Gupta secret then Lord Shiva reached Kedarnath, where Lord Shankar took the form of bull.
Finally, Pandavas discovered Lord Shiva in Kedarnath and received blessings from them. It is believed that when there was interference in the form of Lord Shankar Bull, the upper part of their torso appeared in Kathmandu. Now there is a famous temple of Pashupatinath. Shiva's arms are worshiped in Sri Kedarnath in Tungnath, in the mouth of Rudranath, in Nabhi Madhmaheshwar, the shape of the back of Lord Shankar Bull, and Jata appears in Kalpeshwar, therefore these five places are called Panchkedar. .
---
---
Published Date: May 22, 2023
---