Now Meditate in four Caves in Kedarnath
---
---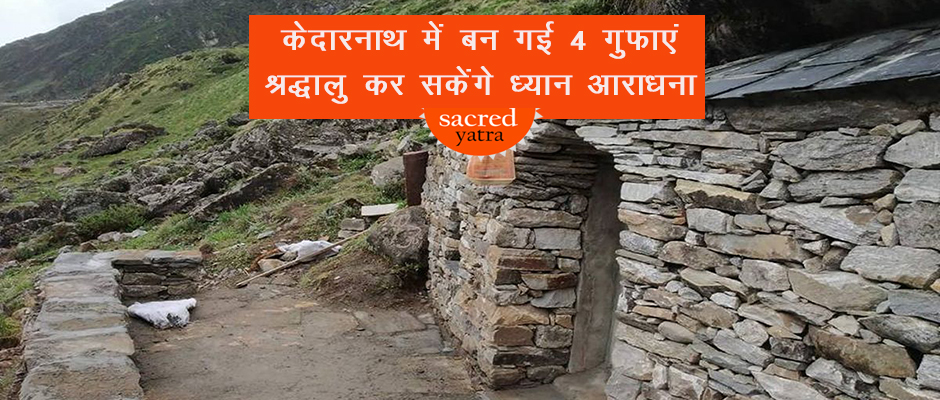 Meditate in Kedarnath Meditation Caves
More Kedarnath meditation caves have been built in Kedarnath. Three new Kedarnath Meditation Gufa has come up in between Dugdh Ganga to Garudchatti. First meditation cave in Kedarnath was constructed in the year 2018, now there are a total of four meditation caves here. The responsibility of operations has been entrusted to the Garhwal Mandal Vikas Nigam.
---
---
---
---
Kedarnath reconstruction project also includes the construction of artificial caves. Under this, Dhyan Cave was constructed by NIM in the Dugdh Ganga region in the year 2018. Whereas last year, three more new Meditation caves have been built in the same area by the District Disaster Management Authority – Public Works Department, Division Guptkashi. Proper arrangements for electricity, water and toilets have been made in each cave.
27 lakh rupees have been spent on the construction of these three Meditation caves. Each cave is two meters in length and three meters in width. One person can meditate in each cave. In the year 2019, Prime Minister Narendra Modi also reached Kedarnath Dham and meditated here for about 17 hours. While 95 devotees had meditated and practiced yoga in the Meditation Cave throughout the journey. During this period, Garhwal Mandal Vikas Nigam also earned more than one lakh income. While 25 pilgrims meditated in the Meditation Cave in the last year during the limited visit to the Kedarnath Dham
Second Phase of Kedarnath Reconstruction
The second phase of reconstruction work in Kedarnath will start from 15 March. Garudchatti will be linked with Kedarnath by completing the construction of a 60-meter span bridge over the Mandakini river. Workers of organizations will reach Kedarnath Dham by second week of March. Due to cold weather and snowfall in Kedarnath, all construction work has been stopped for past three and a half months.
Also, Kedarnath Dham does not have any contact with the district headquarters, but now in view of the improvement in the weather, reconstruction work is expected to start from March 15. DDMA Executive Engineer Praveen Karnwal told that in the second phase, the work of rain shelter, Q-management will be started on Sangam Ghat, Mandir Marg. Apart from this, electricity, water, communication and sewer lines will be under-grounded in Kedarpuri.
Efforts will be made to add a 60-meter span bridge over the Mandakini river till the opening of the Kedarnath kapat, so that the devotees can reach the temple through Garudchatti this time. The team in-charge of Wood Stone Construction Company, Manoj Semwal, said that the work for the second phase of the Samadhi Sthal of Adiguru Shankaracharya will be started in Kedarnath Dham from this month.
While in the third phase beautification of Kedarnath Dham will be done. According to Semwal, the buildings of the Tirtha Purohit and other works are to be done with priority during this Chardham Yatra season, including the work left on the Aastha Path built on the Saraswati river, arrangements are being made for this.
---
---
Published Date: March 4, 2021
---