Mule services slump as Kedarnath's choppers soar
---
---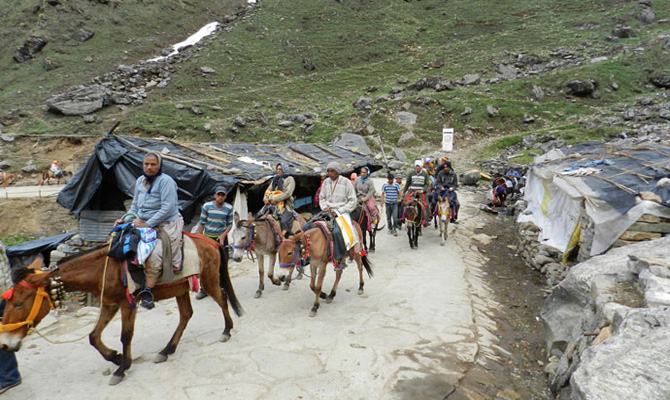 Fitness Test Compulsory for Senior Citizens going to Char Dham Yatra
---
---
The latest swift chopper service to Kedarnath in Uttarkhand has brought down the business of mule and palanquin operators.
This year the disaster hit state revived char dham yatra pulling in over one lakh yatris. Owing to 22 km pedestrian path, people choose chopper, mule or palanquin service to reach the temple. According to the recent reports, pilgrims are preferring flying to the shrine within minutes than covering tedious journey being carried by animals or palanquins.
The number of pilgrims reached upto 44,000 who chose chopper service while only 23,000 hired mules. The traditional palanquin and Kandi (basket) remain in low demand – with only 115-odd tourists opting to move on Doli that is carried by four porters.
Badrinath–Kedarnath Temple Committee (BKTC) Chairman Ganesh Godiyal said: "Air service has gained popularity due to increase in paying capacity of pilgrims. This year, we earned about Rs. 5 crore through donations and by conducting pujas."
The total earnings of the temple touched Rs. 2 crore while 10 chopper firms reaped an overall business of over Rs. 32 crore.
The charges for air service are Rs. 7,200 and round trip palanquin charge costs Rs. 6,500. One has to pay Rs. 1,800 for hiring a mule from Sonprayag to Kedarnath (one way). It is time consuming (about 5-6 hours) when compared to the seven-minute air trip.
News Source : India Today, Dehradun
---
---
Published Date: June 19, 2015
---
Add Comments and Suggestions or Ask Questions about "Mule services slump as Kedarnath's choppers soar"
We would be glad if you can comment below and provide your valuable suggestions and feedback on Mule services slump as Kedarnath's choppers soar. If this Mule services slump as Kedarnath's choppers soar page have any wrong information/list or out of context content, then you can report us as well.
If you have any questions, you can also ask as in the following comments section. Our team will try to provide you answers/solutions.