NDRF Paid Tribute to the Martyrs of 2013 on 2nd Rescuers Day in Kedarnath
---
---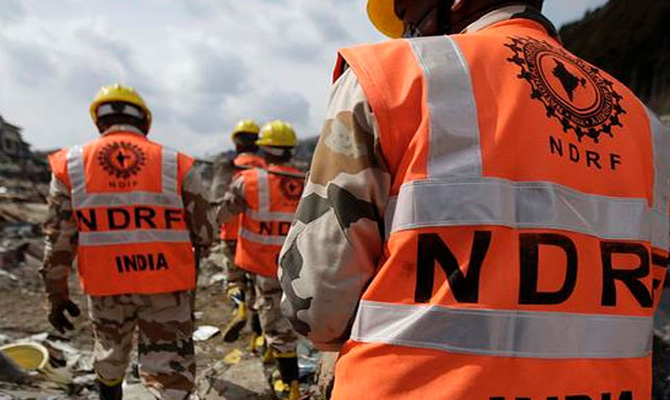 NDRF in Kedarnath
---
---
The 2nd Commemoration Day of Rescuers Day was observed by the National Disaster Response Force (NDRF) on today. This day was dedicated to those brave hearts who sacrificed their lives during the Kedarnath rescue operation. At 11 a.m a wreath laying ceremony was performed by the NDRF and Guard of Honour was given at the Martyrs memorial built in Kedarnath. Senior officers from ITBP, Air Force and local Government paid homage to the martyrs.
Two years back an unfortunate incident happened today when the helicopter which was carrying nine NDRF brave hearts along with 11 other rescuers of ITBP and Indian Airforce crashed near Gaurikund. The name of the brave immortal NDRF martyrs are Nityanand Gupta, Second-in-Command, Inspector Bheem Singh, SI/RO Satish Kumar and Constables Santosh Kumar, Ahir Rao Ganesh, K. Vinaygan, Sanjiv Kumar, Pawar Shashi Kant and Bassavaraj Yaragati.
The havoc caused by the cloudburst and heavy rains on June 16, 2013 became a catastrophe for the pilgrims of Kedarnath and Badrinath. The pilgrimage became a nightmare for the devotees and local inhabitants who died an untimely and painful death.
As soon as the uproar of the news came to the ears of the NDRF, an immediate rescue operation was started to provide relief to the victims. 14 Urban Search and Rescue (USAR) teams of NDRF rushed to the different locations to carry out Humanitarian Assistance and Disaster Relief (HADR) operations at the high altitude of the mountainous terrain. The rescuers took forward the operation and saved a lot of lives at extending hours with sleepless nights to save the lives of the people. A special expedition was flagged off from Ghaziabad to Kedarnath on June 18, 2015 as a part of the Rescuers Day.
News Src : Press Information Bureau
img src : News18
---
---
Published Date: June 25, 2015
---
Add Comments and Suggestions or Ask Questions about "NDRF Paid Tribute to the Martyrs of 2013 on 2nd Rescuers Day in Kedarnath"
We would be glad if you can comment below and provide your valuable suggestions and feedback on NDRF Paid Tribute to the Martyrs of 2013 on 2nd Rescuers Day in Kedarnath. If this NDRF Paid Tribute to the Martyrs of 2013 on 2nd Rescuers Day in Kedarnath page have any wrong information/list or out of context content, then you can report us as well.
If you have any questions, you can also ask as in the following comments section. Our team will try to provide you answers/solutions.