NITI Aayog grant Rs 286 crore to boost Char Dham infrastructure
---
---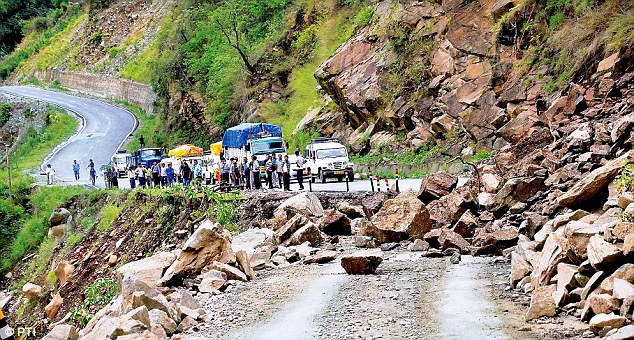 NITI Aayog grant Rs 286 crore to boost Char Dham infrastructure
---
---
NITI Aayog has announced grant of Rs 286 crore to Uttarakhand government under special assistance reconstruction (installment under annual plan 2014-15) to boost infrastructure for the Char Dham Yatra and strengthen reconstruction efforts underway at Kedarnath.
However, with the creation of the new NITI Aayog much of the assistance that Uttarakhand received under the special assistance plan and as a special category state will no longer be available from next year.
Funds for the reconstruction activities include Rs 65 crore for multi-level parking and tourist reception centre, Rs 29.95 crore for construction of three-tier protection behind Kedarnath for safety of pilgrims, Rs 8.22 crore for reconstruction of damaged NH-Sonprayag–Gaurikund and parking lot, Rs 70 crore for reconstruction of Kedarpuri godown, Rs 4.6 crore for construction of three bailey bridges at Kedarnath between Kedarnath and Bhairon temple, Rs 5 crore for rain shelter and tourist kiosks along the yatra route and Rs 10 crore for construction of 180 bio-toilet units on the yatra route, Rs 4.5 crore for base station, DSPT phones optical fibre cable, wi-fi night vision high resolution camera, Rs 10 crore for construction of ghat at confluence of Mandakini and Saraswati rivers, Rs 65 crore for a multi-level parking at Sonprayag and Rs 1.50 crore for setting up of medical relief posts along the yatra route.
The proposal for sanction of Rs 50 lakh has been rejected by the NTI Aayog for setting up of an android-based rescue application for tourists and GIS mapping of public infrastructure in Kedar valley finding it non-viable.
Similarly, the Aayog has not accepted the proposal to establish a District Sport Complex at Haldwani, for which, Rs 5.85 crore were earmarked, as non-viable.
"As the project demands long-term commitment, the norms for grants for states have undergone a change and Special Plan Assistance of this nature will not be available to the state in 2015-16 — The proposal has been rejected. We will have to re-submit it under a different project," said a top official.
So far, under Special Plan Assistance (SPA), Uttarakhand has received a total of Rs 344 crore, which includes Rs 5.13 crore for construction of a building at the IT Park and Rs 22.28 crore for construction of an over-bridge at Bhandari Bagh.
News Src : Tribune India, Dehradun
img src : Dailymail
---
---
Published Date: April 5, 2015
---