No hike in bus fare for Char Dham Yatra
---
---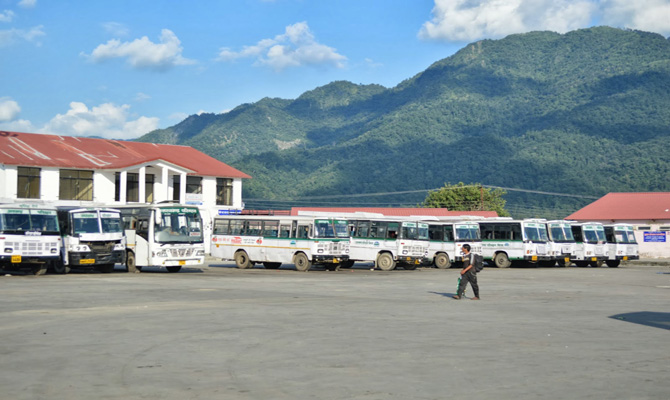 Advance booking starts for Char Dham Yatra
---
---
The Joint Rotation Yatra Committee has decided not to raise the bus fare for the Char Dham Yatra this year. Rotation also conducted lottery for operation of their 833 buses, in which UP-18-0174 won becoming the first bus to go for yatra.
On Thursday, the lottery was conducted in a hotel located around ISBT for 833 buses. The first bus to won was UP-18-0174 of GMOU company, which makes it first bus to operate for the sacred yatra. Committee Chairman, Sudhir Rai said facilitating the travellers will be their top priority. Mahavir Singh Rawat, Bhopal Singh Negi, Krishna Pant, Pradeep Agrawal, Vinod Bhatt, Ajay Badhani, Devendra Singh Rawat, Sunil Jain, Dwarika Prasad Kothari, etc were present on the occasion.
People line up for Green Card
With the beginning of issuing green cards people have started flocking in RTO office. On Thursday, fitness green cards were made of more than 36 vehicles.
Bus fare per head
| | |
| --- | --- |
| Dham | Fare |
| 01 Dham | 985 |
| 02 Dham | 1375 |
| 03 Dham | 2010 |
| 04 Dham | 2400 |
Halting Charge
Minimum – 2500
Maximum – 5000
Extra travel charges
| | |
| --- | --- |
| Siddhpeeth Semmukhem | 8000 |
| Auli | 2000 |
| Trigudinarayan | 2000 |
News Source : Hindustan, Rishikesh
img src : Blogspot
---
---
Published Date: April 17, 2015
---
Add Comments and Suggestions or Ask Questions about "No hike in bus fare for Char Dham Yatra"
We would be glad if you can comment below and provide your valuable suggestions and feedback on No hike in bus fare for Char Dham Yatra. If this No hike in bus fare for Char Dham Yatra page have any wrong information/list or out of context content, then you can report us as well.
If you have any questions, you can also ask as in the following comments section. Our team will try to provide you answers/solutions.