Now Char Dham Yatra will be more easy to do
---
---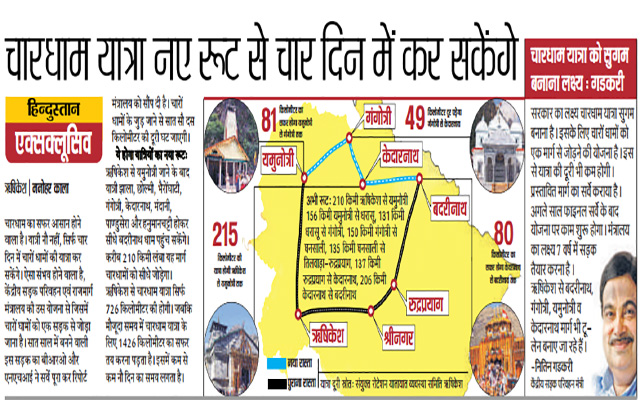 Now Char Dham Yatra will be more easy to do
---
---
Char Dham route will be now easy to travel. Tourist can visit char dham in 4 days only. This is a new step taken by government for Uttarakhand tourist. They planned to join char dham with one route, this will be completed within 6 years. BIO & NIH has taken a keen interest in this matter and made a report after survey.
Route chart for Char dham Yatra
Char dham route will be connected in future. As per government chart the total distance to cover is 726 km only, which covers Rishikesh to Yamunotri then Jhala, Cholmi, Bhairoghati and Gangotri. Devotees can visit Badrinath via Kedarnath, Pandusera & Hanumanchatti. The total distance via this route is 210 km only. Now days the total distance of char dham is 1426 km. So when thi new route will be active, will definitly reduce the travel time, distance and charges too.
---
---
Published Date: March 11, 2016
---
Add Comments and Suggestions or Ask Questions about "Now Char Dham Yatra will be more easy to do"
We would be glad if you can comment below and provide your valuable suggestions and feedback on Now Char Dham Yatra will be more easy to do. If this Now Char Dham Yatra will be more easy to do page have any wrong information/list or out of context content, then you can report us as well.
If you have any questions, you can also ask as in the following comments section. Our team will try to provide you answers/solutions.