Online Registration & 5000 Devotees limit for Kedarnath Dham
---
---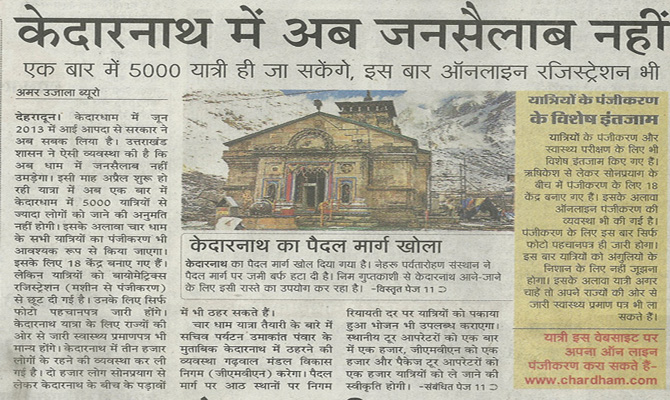 Online Registration & 5000 Devotees limit for Kedarnath Dham
---
---
After the vagaries of nature witnessed in 2013 with landslides and floods devastating the region badly, the administration is being more cautious regarding the yatra now. Several steps are being taken to result a safe and carefree yatra. Uttarakhand administration has made special arrangements this time to deal with the overflowing of people in the Dham. With the onset of famous Char Dham Yatra this year the administration has announced only 5000 pilgrims will be allowed to visit the shrine in a day.
Besides this, the registration of all the pilgrims will also be an impotant step in the process for which 18 registration centres have been set up so far. Devotees can register online at www.chardham.com. Pilgrims have been exempted from getting their biometric registration done. On behalf of which photo based ID cards will be issued to them. The passengers will also be required to submit their medical certificate under which the certificates from outside the state will also be valid. The arrangements for the stay of three thousand people has been made. Two thousand people can also stay in the on way motel between Sonprayag and Kedarnath.
Tourism Secretary Umakant Panwar stated that the lodging arrangements will be made by Garhwal Mandal Vikas Nigam (GMVN) in Kedarnath. GMVN will also avail the facility of cooked food to the pilgrims at reasonable prices on the pedestrian way. Local tour operators will be allowed to take one thousand passengers at a time while GMVN and external tour operators will be allowed one thousand travellers.
News Source : Amar Ujala, Dehradun
---
---
Published Date: April 2, 2015
---
Add Comments and Suggestions or Ask Questions about "Online Registration & 5000 Devotees limit for Kedarnath Dham"
We would be glad if you can comment below and provide your valuable suggestions and feedback on Online Registration & 5000 Devotees limit for Kedarnath Dham. If this Online Registration & 5000 Devotees limit for Kedarnath Dham page have any wrong information/list or out of context content, then you can report us as well.
If you have any questions, you can also ask as in the following comments section. Our team will try to provide you answers/solutions.