Yamunotri Temple will open today at 12:15 pm
---
---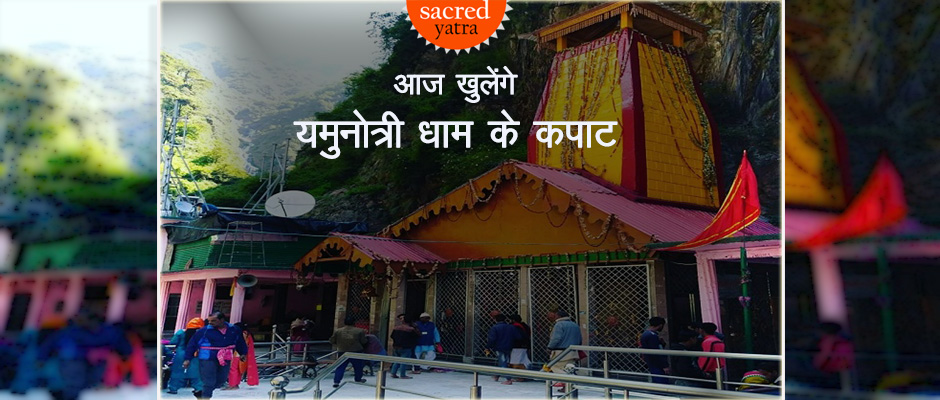 Opening of Yamunotri Dham
Yamunotri Dham will be opened today at 12:15 pm on the sacred festival of Akshay Tritya with holy Puja and rituals. Yamunotri Temple Committee Vice-President Rajwaroop Uniyal and Secretary Suresh Uniyal informed that the festive idol of mother Yamuna will be sent from Kharsali to Yamunotri Dham along with the Doli Yatra at 8 am today.
---
---
The doli of mother Yamuna's brother Sameshwar Devta (Shani Maharaj) will also go to Yamunotri to see them off. At Abhijit Muhurta, the doors of Yamunotri Temple will be opened at 12.15 pm with special worship and rituals.
In view of the Covid epidemic, a total of 25 people, including priests, pilgrimage priests and Palgirs, will be present at the opening of Yamunotri Dham. The corona test of all these people has been conducted.
Pedestial path ready for journey to Yamunotri Dham
After the end of the Corona epidemic, when the Chardham Yatra starts, the pilgrims will be able to make a smooth trip to Yamunotri Dham. PWD has constructed a bypass trek to Yamunotri Dham, after old route was ravaged by landslides near Bhidialigad last year. The construction of the bridge has been completed along the paved walkway in the bypass.
On September 11 last year, a massive landslide near Bhidialiagad destroyed the bridge on the Jankichatti-Yamunotri footpath and about 150 meters of the road. Though the government has postponed the Chardham Yatra this time due to the Covid epidemic across the country, the Yamunotri temple will be opened today on the sacred festival of Akshaya Tritiya, as per the tradition and rituals.
All pilgrims hope that soon after getting rid of the Covid epidemic, the Chardham Yatra will start again. PWD had started the reconstruction of this route of travel importance in April month. Despite challenges of Corona infection and bad weather, PWD has prepared a 36-meter long pedestrian bridge and a 300-meter bypass route here in about a quarter of a month. Now Doli Yatra of Mother Yamuna will reach Yamunotri Dham via this route.
Work completed despite challenges
Site incharge of PWD Ravindra Chauhan said that it was challenging task to construct the bypass route in such a short time frame, Covid epidemic and bad weather. Despite this, the work has been completed in a quarter of a month. Some remaining work like railings on the route will also be completed in a few days. Now this road is ready for safe journey.
---
---
Published Date: May 14, 2021
---