Pilgrims Break 7 Years Record for Badri-Kedar Darshan
---
---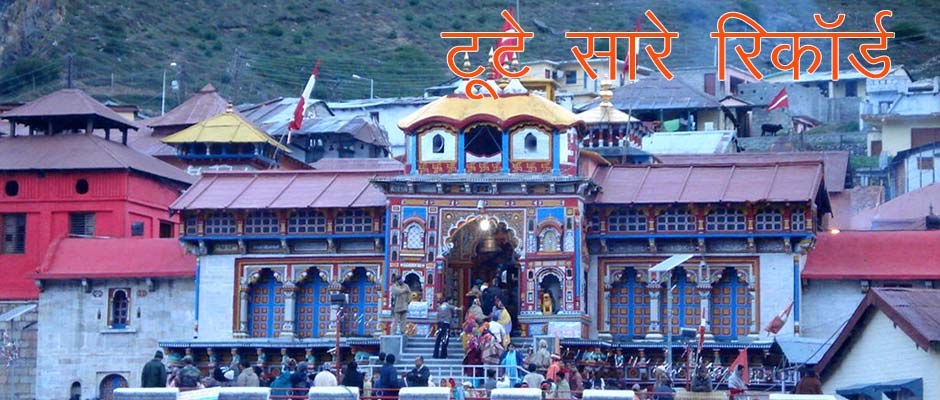 Badri-Kedar Pilgrims Record
Badrinath temple of Uttarakhand welcomes the pilgrims from all over the world. Its glory attracts the visitors across the globe to visit the shrine and take blessing. This year Badrinath Dham has created a big record. After seven years in Badrinath Dham, the record of the passengers is broken. This is the first time since 2010, 7 lakh devotees visited Badrinath in a season. Also the temple committee received record income this year.
---
---
---
---
So far, the committee has earned income of 11 crore 50 lakhs. Badrinath shrine was opened on May 6 this year. From 6th May to 10th September 7.50 lakhs have been visited Badrinath and temple committee has earned 11.5 million rupees. This time, the number of passengers has increased due to the clear weather.
In the past few years, the impact of the weather was seen on the flow of pilgrims. One report says that in 2010, 9.50 lakh pilgrims had come for Badrinath darshan. The good thing is that till now 7.5 million pilgrims have visited Badrinath. It is believed that the record of 2010 can also be broken. In Kedarnath Dham too, pilgrims flocked to the shrine in huge numbers. On Monday, 2128 passengers reached Baba Kedarnath's Dham.
After the rainy season, the journey to Kedarnath has started again. Meanwhile, the country's 14th President Ramnath Kovind is coming for Kedarnath shrine. So far the program says that on September 22, the President is coming to Kedarnath for the first time. The President is also known as the great devotee of Baba Kedar.
According to the program, on September 22, President Ramnath Kovind will visit Baba Kedar Baba in Kedarnath Dham. At the same time, he can lay a foundation for a ghat. The President's 22 September has probable program to reach Uttarakhand. This visit of President Ramnath Kovind is also very important in many ways. The first thing is that after becoming the President, he will be in Uttarakhand for the first time.
Also BJP supremo Amit Shah is coming Uttarakhand for a 3-day stay from September 19. It is reported from sources that on September 19, Amit Shah will be traveling directly to Kedarnath. Here Amit Shah will visit Kedarnath before visiting the remaining areas of the state. When Kedar's shrine were open, then PM Modi himself was the first to visit here.
---
---
Published Date: September 14, 2017
---