Pink Buransh blossoms in Lincholi-Rambada footway
---
---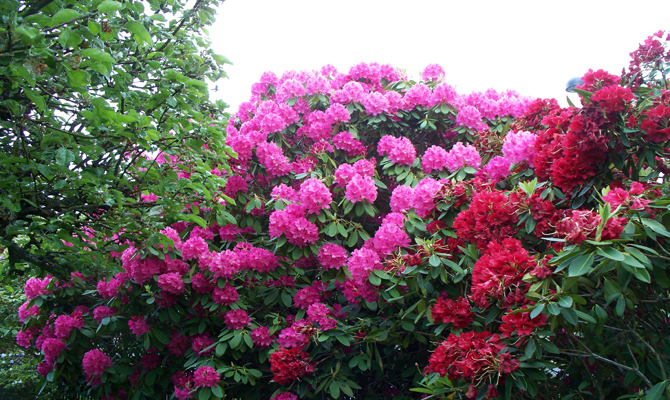 Pink Buransh blossoms in Lincholi-Rambada footway
---
---
The fourth and important stop on the pedestrian route of Kedarnath Yatra is Linchauli. After the catastrophy this is the place which has seen the biggest change after the revival as the footway route. The efforts of constructing a helipad and availing other major facilities on he ground level are underway. Travellers will have to depend mainly on this stop.
Linchauli developed as main stop on Kedarnath route
After 2013 calamity Linchauli has emerged as a new face on Kedarnath Dham route. Linchauli which is 12 km away from the Gaurikund offers enchanting view of glinting snow capped mountains, but to reach here one has to climp up the 5 km steep slope uphill. Government made emphasis to make Linchauli the major stop for pedestrian route for the yatra. A big helipad was constructed in the place, and tents are also set up because of insufficient space. GMVN has made 25 huts here, where the arrangements of accommodating around 150 pilgrims have been made. Linchauli is the only stop where the chances of staying are safer in the Kedarnath yatra route. In the inclement weather conditions travellers are made to stay here. The administration has made complete arrangements for pilgrims in Linchauli this time. Travellers will also be able to relish the breathtaking snow view from Linchauli. The recent heavy snowfall has covered the place with white sheet of gleaming snow adding to its beauty.
Rare pink Buransh blossoms in heavy snowfall
The heavy snowfall has covered the valley with white sheet of snow but the blooming fresh pink buransh have added to the beauty of the footway. Buransh has blossomed in Linchauli and places nearby.
News Source : Amar Ujala, Uttarkashi
img src : wikipedia
---
---
Published Date: April 16, 2015
---
Add Comments and Suggestions or Ask Questions about "Pink Buransh blossoms in Lincholi-Rambada footway"
We would be glad if you can comment below and provide your valuable suggestions and feedback on Pink Buransh blossoms in Lincholi-Rambada footway. If this Pink Buransh blossoms in Lincholi-Rambada footway page have any wrong information/list or out of context content, then you can report us as well.
If you have any questions, you can also ask as in the following comments section. Our team will try to provide you answers/solutions.