PM Modi lays foundation stone for 12000 crore Chardham Highway Project
---
---
Rs 12,000 cr project to connecting Char Dham with two lane road
---
---
PM launches the highly ambitious 11,700 crore Char Dham Highway Project
Addressing the Parivatan Rally on Tuesday in which a large number of people showed up, PM Narendra Modi inaugurated the highly ambitious 900 km Char Dham Highway Development program and paid tribute to the lives lost in 2013 Uttarakhand floods.
PM quoted that "Roads bring livelihood and the inauguration of this highway network will provide relief to Indians who wish to go on a pilgrimage".
Since the highway network along the Char Dham route was demolished due to the cloudburst in 2013, PM has taken up the matter in his hands and has decided to build a swift national highway network in the upper Himalayan region.
Here are the key points of his promising Char Dham Highway Project:
The pilgrims will have hassle free and safe journey as the government has decided to widen the existing, geometrically deficient 900-km highway which will connect Gangotri, Yamunotri, Kedarnath and Badrinath Dham. The estimated cost of this project will be Rs 12,000 crore.
The project cost will include civil construction as well as land acquisition, forest clearance, and utility shifting. Currently, the work estimating to about 3,000 crores has been started under the Char Dham program.
The work began in March when Gadkari launched the "All Weather Road Project". The project features well laid cemented roads having no potholes for the next 200 years. The roads will showcase 2 tunnels, 15 flyovers, 13 alignments at the landslide zone, 25 mammoth bridges, and 18 passenger service centres and 13 by-passes.
The Ministry also plans to improve the stretches to the two-lane carriageway that will highlight the landslide prone zones, construct by-passes, long bridges, tunnels, elevated corridors and an all-weather road to ensure safety to the pilgrims.
He also said that the roads leading to Gangotri and Badrinath are equally important because of the link to defence establishment.
The Prime Minister stated that "Gadkari has worked hard to ensure that the highways network is upgraded. He has consulted foreign agencies that have worked on roads whose condition will not deteriorate even after 100 years".
If this comes true then travelling to the four Himalayan shrines i.e. Kedarnath, Badrinath, Gangotri, and Yamunotri will become a child's play and the people will remember the work that has been done through the project for the next 100 years. PM in his confident tone said that "So many people from across the country who wanted to take their aged parents to the Char Dham will now be able to do so. If good facilities are provided, then which family in the country would not want to come to Dev Bhoomi?".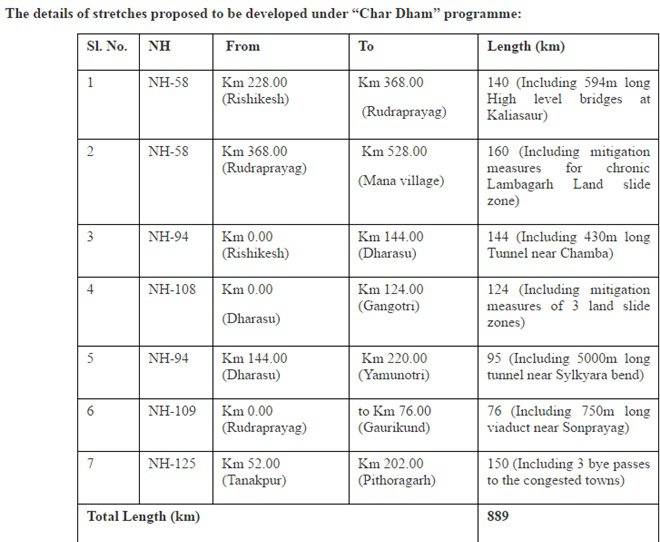 ---
---
Published Date: December 27, 2016
---
Add Comments and Suggestions or Ask Questions about "PM Modi lays foundation stone for 12000 crore Chardham Highway Project"
We would be glad if you can comment below and provide your valuable suggestions and feedback on PM Modi lays foundation stone for 12000 crore Chardham Highway Project. If this PM Modi lays foundation stone for 12000 crore Chardham Highway Project page have any wrong information/list or out of context content, then you can report us as well.
If you have any questions, you can also ask as in the following comments section. Our team will try to provide you answers/solutions.