PM Modi Wants Kedarnath a 'Smart City'
---
---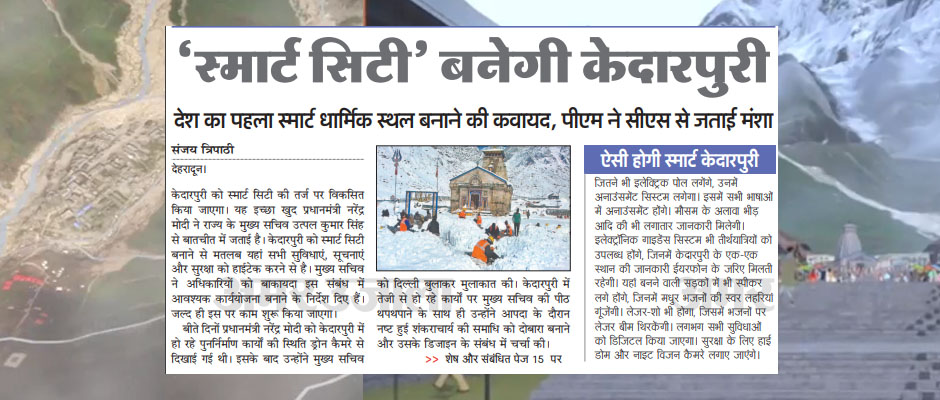 PM Modi wants Kedarnath a Smart City
Kedarpuri will be developed on the lines of Smart City. This wish was made by PM Narendra Modi in a chat with state Chief Secretary Utpal Kumar Singh.
By making Kedarnath a smart city, it is meant that all the facilities, information and security to be hightech. The Chief Secretary instructed the officials to make the necessary action plan in this regard. Soon work on this will be started.
---
---
---
---
Last time, the status of the reconstruction work in Kedarnath was shown with drone cameras by Prime Minister Narendra Modi. After this he called the Chief Secretary to Delhi and met him. Apart from acknowledging Chief Secretary fast work in Kedarnath, he discussed the reconstruction of the Shankaracharya's Samadhi, which was destroyed during the calamity and discussed about its design. The Prime Minister asked Chief Secretary to develop Kedarpuri on the basis of Smart City standards, so that it is known as the country's first smart religious place.
After return from Delhi, the Chief Secretary directed the officers to work on this scheme. It has been said that arrangements should be made to ensure that drinking water and electricity are computerized. In addition, all electric poles will be installed with announcement system in them.
There will be announcement in all the languages ​​of the country. In addition of weather, crowds etc information can be given to pilgrims. Also electronic guidance systems will also be made available to pilgrims, in which information about Kedarnath will be available through earphone.
There will also be speakers installed in the streets in which the melodious hymns will resonate. Apart from this, there will also be laser-show, in which laser beam will vibrate on hymns.
Almost all the features will be digitized. High dome and night vision cameras will be installed for security. According to a senior official, making smart means means that all arrangements can be made smartly here. The drill has begun for this. Along with reconstruction work these works will also be started soon.
---
---
Published Date: March 9, 2018
---