Portals of Dwitiya Kedar Madmaheshwar temple opened yesterday
---
---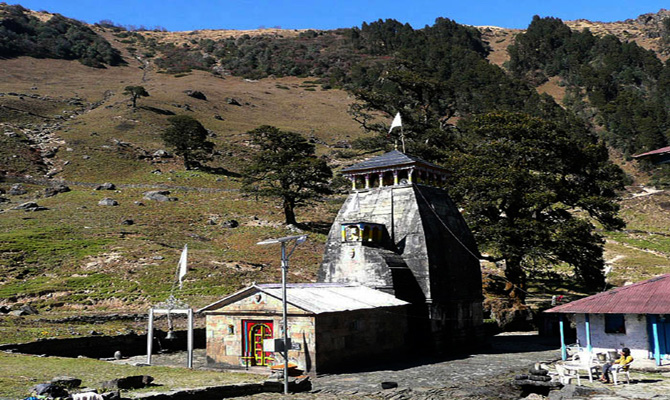 Madmaheshwar Temple
---
---
The valves of one of the Panch Kedar – Dwitiya Kedar Madmaheshwar temple opened on Sunday morning at 11.15 am amid the grand religious ceremonies.
Lord Madmaheshwar will be worshipped in Ukhimath for the next six months for the pilgrims. The navel of Lord Shiva is worshipped in Madmaheshwar temple. Chief priest Bagesh Ling performed arti at six in the morning on Sunday at second stage Gaundar amid the ongoing celebration.
The palanquin then headed to village crossing Vansoli, Khatra, Nanu, Mokhamba, Punchatti and finally reached Dev darshani at quarter to 11 in the morning. After taking a short rest, the people waited with the palanquin for an invitation from the temple.
Already present Thaur Bhandari Madan Singh then reached Dev darshani along with Vikram Singh while blowing holy musical instrument conch and then peformed rituals with the palanquin. The welcomed the palanquin and carried it to the temple. A hawan was conducted by priests and brahmans and chief priest placed the dieties from palanquin to the sanctum sactorum.
Amid the chanting of mantras and pooja-arti, the doors were thrown open on the auspicious occassion for the pilgrims. After which approximately two hundred devotees did darshan of the deity. On this occasion palanquin charge Bachan Singh Rawat, Alam Singh, Bablu Jungli, Jitendra Rana, Kalam Singh, Sanjay Singh were present.
News Source : Amar Ujala, Ukhimath
---
---
Published Date: May 18, 2015
---
Add Comments and Suggestions or Ask Questions about "Portals of Dwitiya Kedar Madmaheshwar temple opened yesterday"
We would be glad if you can comment below and provide your valuable suggestions and feedback on Portals of Dwitiya Kedar Madmaheshwar temple opened yesterday. If this Portals of Dwitiya Kedar Madmaheshwar temple opened yesterday page have any wrong information/list or out of context content, then you can report us as well.
If you have any questions, you can also ask as in the following comments section. Our team will try to provide you answers/solutions.