Administration Begins Preparations for Chardham Yatra
---
---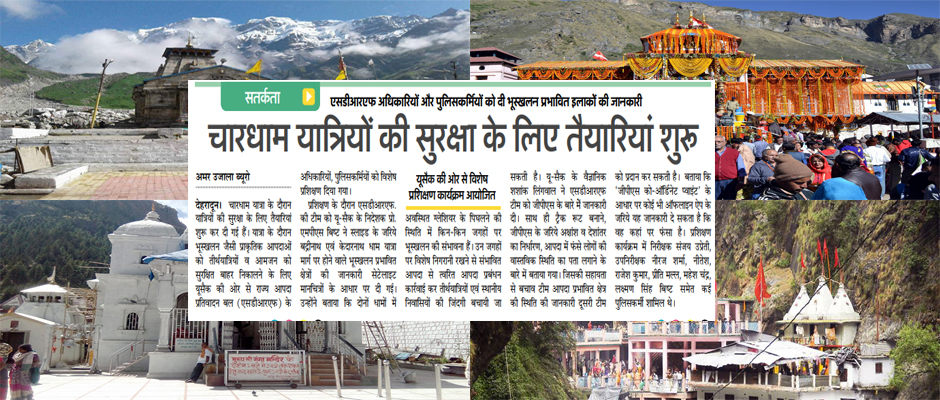 Preparations for Chardham Yatra Begins
Preparations for the safety of Pilgrims during Chardham Yatra have been started by Administration. During natural calamities like landslides during the Chardham Yatra, special training was given by USAC to officials of the State Disaster Reporting Force (SDRF), police personnel, to take out the pilgrims and the masses safely.
---
---
Training given to SDRF and Police Officers on behalf of U-SAC
During training, the team of SDRF, USAC's director Prof. M P S Bisht gave information on landslides affected areas on Badrinath and Kedarnath Dham Yatra route on the basis of satellite maps. He told that in places of glacier melting of the two hymns, which places are prone to landslides. Keeping special monitoring in those places, the life of pilgrims and local residents can be saved by taking immediate disaster management action from the potential disaster.
U-SAC scientist Shashank Lingwal informed the SDRF team about GPS. In addition to setting up Trek Route, Detection of latitude and longitude through GPS, it was explained about locating the real state of the people trapped in the disaster. With the help of which the rescue team can provide information to the other team about the situation of the affected area. Depending on the GPS Coordinate Point, any offline app can give information about where he is trapped. Inspector Sanjay Upreti, Sub Inspector Neeraj Sharma, Nitesh, Rajesh Kumar, Preeti Mall, Mahesh Chandra, Lakshman Singh Bisht, and many policemen were present in the training program.
---
---
Published Date: April 18, 2019
---
Add Comments and Suggestions or Ask Questions about "Administration Begins Preparations for Chardham Yatra"
We would be glad if you can comment below and provide your valuable suggestions and feedback on Administration Begins Preparations for Chardham Yatra. If this Administration Begins Preparations for Chardham Yatra page have any wrong information/list or out of context content, then you can report us as well.
If you have any questions, you can also ask as in the following comments section. Our team will try to provide you answers/solutions.