Preparations start for opening portals of Madmaheshwar Temple
---
---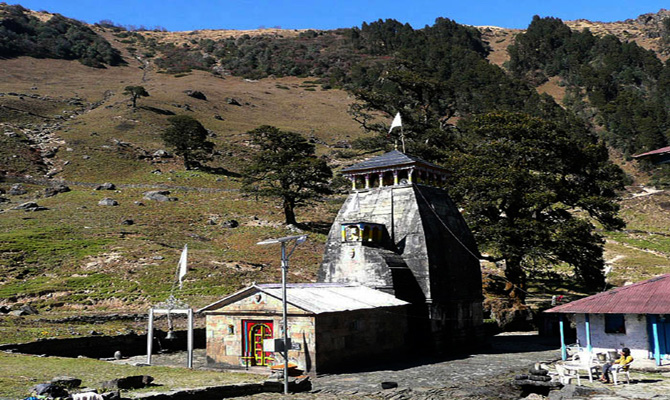 Madmaheshwar Temple
---
---
The preparations have begun for the opening of the valve of Second Kedar 'Madmaheshwar'. On Wednesday, the Bhogmurti was brought from Himalayas to the sanctum sactorum of Omkareshwar temple. And special prayers were offered to God Omkareshwar. During the ceremony, people offered bhog of local grain (Chavdi) to the God. The portals will be opened on May 17 amid the chanting of vedic mantras.
On Wednesday morning at six o'clock, daily puja was offered to God Madmaheshwar in Ukhimath located Panchkedar Gaddisthal Kedar Omkareshwar temple. Consecration of God Madmaheshwar was done in the presence of the chief priest and Vedapathiyon. During the same, Puja was also offered to Navgrah puja, Panch puja, Ganesh, Parvati and Bhairav. Thereafter, the idol of Madmashwar was brought from Omkareshwar temple to the house of the temple. Sundarkand Path and Arti was also performed in the Sabhamandap. On Thursday, the Utsav Doli will be placed in Sabha Mandap for darshan by the devotees. The palanquin will reach Ransi on May 15 night for the rest. On May 16, the palanquin will reach Gondar offering darshan to devotees on the way at various places. The portals of Dwitiya Kedar – Madmaheshwar will be thrown open on the auspicious occassion of Kark Lagn amid the chanting mantras on May 17.
News Source : Dainik Jagran, Rudraprayag
img src : eUttaranchal
---
---
Published Date: May 15, 2015
---
Add Comments and Suggestions or Ask Questions about "Preparations start for opening portals of Madmaheshwar Temple"
We would be glad if you can comment below and provide your valuable suggestions and feedback on Preparations start for opening portals of Madmaheshwar Temple. If this Preparations start for opening portals of Madmaheshwar Temple page have any wrong information/list or out of context content, then you can report us as well.
If you have any questions, you can also ask as in the following comments section. Our team will try to provide you answers/solutions.