Rain block Kedarnath route, other Dhams runs smooth
---
---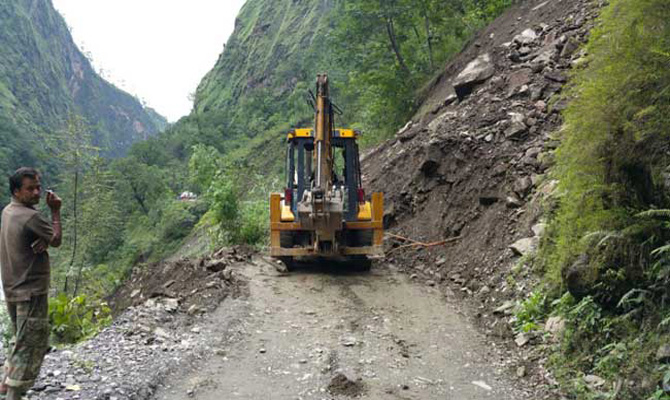 Kedarnath route resume but heavy rain forecast by MET
---
---
In Uttarakhand weather are continuously changing it's sides. In many places of state there are heavy rainfall occur and other places are covered by clouds. Kedarnath route is banned due to downpour, it is blocked from two side and all devotees of Kedarnath has stopped their trek in Sonprayag. However the Gangotri, Yamunotri and Badrinath route are smoothly functioning. Rudraprayag district are covered in clouds. Debris closed Gurikund highway near Fata.
The pedestrian route to Kedarnath Munkatia and Gaurikund was blocked to one km further to the filtrate. In terms of safty Kedarnath passengers is hold their yatra in Sonprayag. The afternoon 80 passengers left Gaurikund for Kedarnath on foot. Overnight light rain occured in Chamoli but in the morning it's cloud covered. Badrinath route is working, so 100 passenger left Govindghat for Hemkund. Tehri district is cover by fog in the morning . Uttarkashi is raining since morning. Gangotri and Yamunotri highway traffic is smooth. Dehradun is cloudy in the morning. After a heavy rainfall Roorkee and the surrounding area has been clouds cover. In Kumaon in Rudrapur and Champawat is sunny while raining in Bageshwar.
News Src : Jagran Dehradun
---
---
Published Date: August 5, 2015
---
Add Comments and Suggestions or Ask Questions about "Rain block Kedarnath route, other Dhams runs smooth"
We would be glad if you can comment below and provide your valuable suggestions and feedback on Rain block Kedarnath route, other Dhams runs smooth. If this Rain block Kedarnath route, other Dhams runs smooth page have any wrong information/list or out of context content, then you can report us as well.
If you have any questions, you can also ask as in the following comments section. Our team will try to provide you answers/solutions.