Rain stops, people breathed a sigh of relief in Char Dham
---
---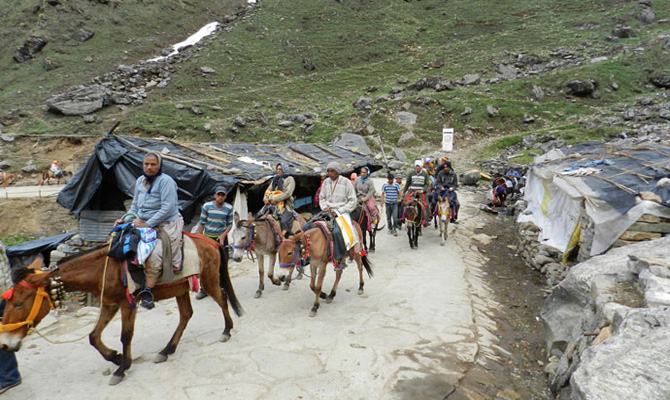 Fitness Test Compulsory for Senior Citizens going to Char Dham Yatra
---
---
Except Kedarnath walkabout, people all over Uttarakhand breathed a sigh of relief when the weather opened up. Badrinath, Hemkund, Gangotri and Yamunotri pilgrimage is continuing. Meanwhile, the pilgrims of Kedarnath are stopped at Sonprayag. Rishikesh-Gangotri road which has been obstructed due to debris has been constrained for heavy vehicles.
Helicopter services have been impeded
It is drizzling in Kedarnath walkabout at Rudraprayag, therefore for safety purposes the Kedarnath pilgrims are stopped at Sonprayag. In the morning the helicopter carrying the pilgrims took one round of the Kedarnath shrine. After this the helicopter service has been discontinued. The Gaurikund Highway has been opened till Sonprayag.
Badrinath and Hemkund yatra is contuining
It was drizzling in Chamoli last night but when the Sun came out today morning, the people had a sigh of relief. The Badrinath Highway is functioning smoothly. Today morning more than 130 people left from Govindghat for Hemkund. Due to heavy rainfall few vehicular pathways have been blocked at Chamoli. According to the Weather Bureaus forecast it will rain for the next three days in Chamoli.
34 link roads have been closed
Clouds can be seen in Pauri since today morning. Therefore, 34 link roads have been closed. All the schools have been closed in the district because of the prediction of rainfall.
Heavy vehicles are restricted on the roads
Rishikesh-Gangotri road near Tehris Bagardhar have been closed since last night. BRO team came for the restoration of the roads. The terrain is being cut to make wide roads for the vehicular traffic to pass easily. Only small vehicles are allowed to pass through it. Whereas, 06 roads of Tehri are also closed. The water level of Tehri dam have been recorded as 756.30 meters. The weather is fine in Dehradun and Haridwar. Rain has stopped falling in the Kumaon areas of Chambavat, Almora, Ramnagar and Nainital.
News Source : Jagran, Dehradun
---
---
Published Date: July 8, 2015
---