Rawal of Badrinath Dham reach Uttarakhand
---
---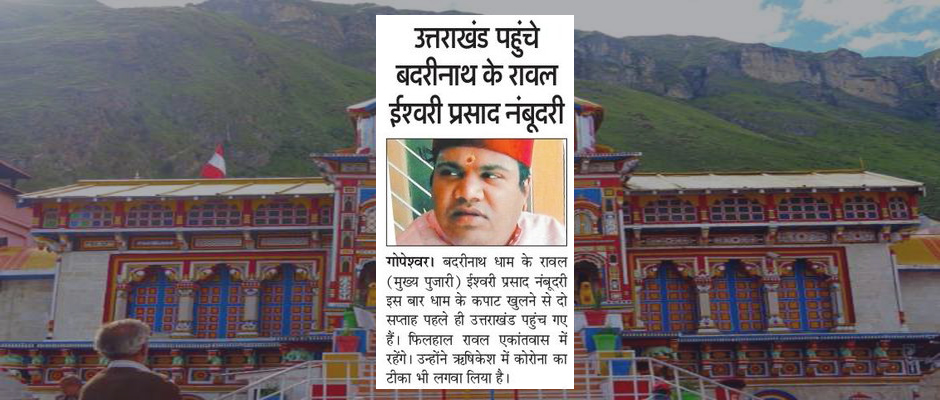 Rawal of Badrinath Dham reach Uttarakhand
The Rawal of Badrinath Dham Ishwari Prasad Namboodari has reached Uttarakhand, long before opening of Badrinath Temple. For now, he got vaccinated in Rishikesh and will be on isolation.
---
---
---
---
Badrinath Dham will be open on 18 May 2021 at 04:15 am. Last year due to Covid-19, there was difficulty for Rawals of Badrinath & Kedarnath to reach Uttarakhand. As this year too the Covid situation is rising, Badrinath Rawal has reach Uttarakhand two weeks before the opening of Badrinath Dham. Dharmadhikari of Badrinath Dham told that Rawal of Badrinath reached Dehradun and get vaccinated at Rishikesh. Preparation for Badrinath Temple opening ceremony has been started and Rawal may reach Joshimath in first week of May.
---
---
Published Date: April 25, 2021
---
Add Comments and Suggestions or Ask Questions about "Rawal of Badrinath Dham reach Uttarakhand"
We would be glad if you can comment below and provide your valuable suggestions and feedback on Rawal of Badrinath Dham reach Uttarakhand. If this Rawal of Badrinath Dham reach Uttarakhand page have any wrong information/list or out of context content, then you can report us as well.
If you have any questions, you can also ask as in the following comments section. Our team will try to provide you answers/solutions.