Rawat flags off second season of "Mere Bujurg Mere Teerth" pilgrimage for Chardham
---
---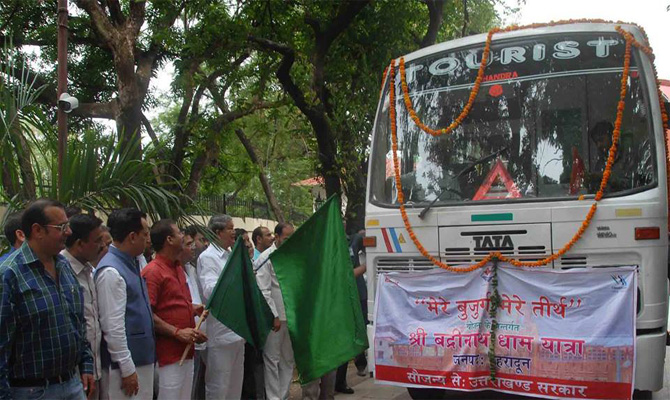 Rawat flags off Mere Bujurg Mere Teerth pilgrimage for Chardham
---
---
Under the unique scheme "Mere Bujurg Mere Teerth" started by Uttarakhand Government last year, flagged off second group of pilgrims to the famous Char Dham Yatra. CM Rawat flagged off three buses of pilgrims to Badrinath and Gangotri temples.
The second season of the scheme began with sending 94 pilgrims aged 65 years and above to the two shrines. Out of these, 64 are bound for Badrinath and 30 for Gangotri.
Speaking at the flag-off, CM said the state government has set itself a target of taking 20,000-25,000 elderly people on Chardham yatra for free this year.
The scheme was launched last year as a token of respect to the elderly and also boost the inter-district tourism in the state.
CM also announced that the facilities offered will further develope in the coming years. And the pilgrims who have already participated in the sceme will also be able to get another chance 2017 onwards.
Apart from paying respect to the elderly, the scheme is also meant to encourage people of one district to visit other districts. It will throw up opportunities for more regional and cultural intermingling in the state besides imparting momentum to its economy," Rawat said.
Government is putting continuous effort to make the scheme a year-long affair and boost other religious places like Piran Kaliyar, Nanakmatta, Jageshwar, Madmaheshwar and Chota Kailash under its ambit, he said.
Noting that Uttarakhand is as safe today as any other state, Rawat said pilgrims in large numbers from across the country and abroad are coming for Chardham yatra this year.
News Source : Zee News, Dehradun
---
---
Published Date: May 11, 2015
---