Reconstruction of Adi Shankaracharya Mausoleum will be completed soon
---
---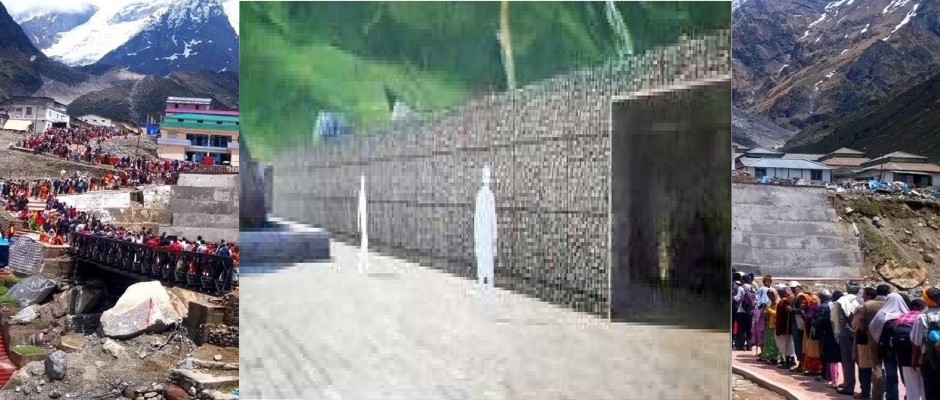 Model form of underground cave
The reconstruction work of Adi Guru Shankaracharya's Mausoleum (समाधि) will be in Kedarnath Dham this year. The PMO and the Uttarakhand government have included this construction work in their priority. From the year 2021, devotees will be able to visit the Samadhi Sthal during the Kedarnath Yatra. Adi Shankaracharya's Mausoleum (समाधि) which is behind the divine rock (Bheem Shila) in Kedarnath is being built in an underground cave. For this, a 100 m long cave has been prepared.
---
---
---
---
Devotees will be able to see Adi Guru Shankaracharya Mausoleum from 2021
Adi Guru Shankaracharya's cottage (samadhi Sthal) and museum are being constructed near the divine rock (Bheem Shila) on the left side behind the Kedarnath temple. The tomb is to be built underground, which will be at a depth of about six meters from the ground. According to the design, 36 meters of circular construction has to be done, in which 3 meters wide and 40 meters long underground route has to be made, which will reach the tomb. Separate routes will be made for entry and exit into the tomb. A museum will also be built, where literature and other objects related to Adiguru Shankaracharya are to be kept. This construction work to be done at a cost of 16 crores is to be completed this year. The construction of the Mausoleum (समाधि) of Adiguru Shankaracharya is included in Prime Minister Narendra Modi's dream project.
Mausoleum of Adi Guru Shankaracharya before the Kedarnath Disaster
Rambara-Garud Chatti-Kedarnath walkway will also be revived
For easy access to Kedarnath, the demolished Rambara-Garudchatti-Kedarnath walkway is being revived. In the first phase, 3.5km road from Kedarnath to Garudchatti has been constructed. In the second phase, the action of the Geological Survey up to Rambara-Garudchatti has been completed. The process of land transfer is being done by PWD-DDMA. The reconstruction work of the 03 km route will begin by April. In order to link the path to the temple, two abatements of the 60-meter span bridge over the Mandakini river have also been constructed. The bridge will be connected before the yatra starts.
---
---
Published Date: January 3, 2020
---
Add Comments and Suggestions or Ask Questions about "Reconstruction of Adi Shankaracharya Mausoleum will be completed soon"
We would be glad if you can comment below and provide your valuable suggestions and feedback on Reconstruction of Adi Shankaracharya Mausoleum will be completed soon. If this Reconstruction of Adi Shankaracharya Mausoleum will be completed soon page have any wrong information/list or out of context content, then you can report us as well.
If you have any questions, you can also ask as in the following comments section. Our team will try to provide you answers/solutions.