2 Lakh Online registrations for Chardham Yatra
---
---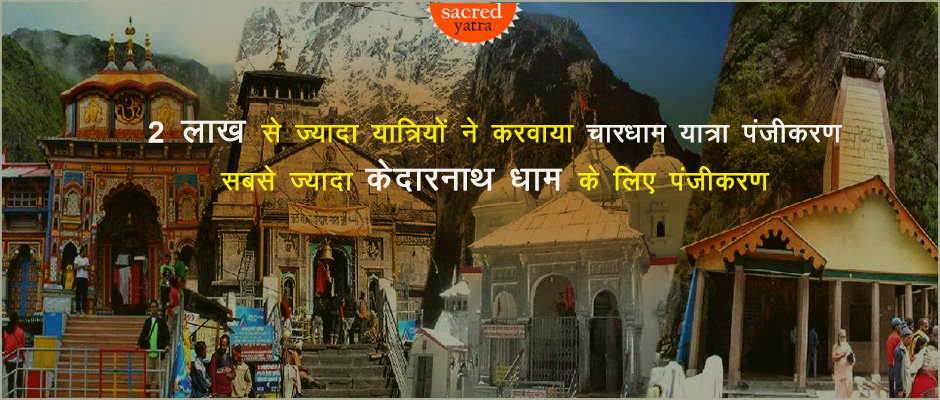 Record Online registrations for Chardham Yatra
The registration number of devotees visiting Chardham and Shri Hemkund Sahib is increasing rapidly. Online registration is being done in the website of tourism department. So far, 2 Lakh devotees have registered themselves for Chardham Yatra. The maximum number of registrations of 75000 have been done for Kedarnath Dham . The doors of Gangotri and Yamunotri will open on May 3, Kedarnath on May 6 and Badrinath on May 8.
---
---
---
---
The official website for Chardham Registration has been released by the Uttarakhand Tourism Development Council where devotees can do online registration. From March 1 to April 25, 2 Lakh devotees have got themselves registered.
Chardham Registration work entrusted to Ethics Infotech Company
This year the work of registration of pilgrims has been entrusted to Ethics Infotech Company. Project Manager of the company Prem Anant told that 28515 for Yamunotri Dham, 28697 for Gangotri Dham, 75151 for Kedarnath, 49779 for Badrinath Dham and 3572 for Shri Hemkund Sahib have so far registered themselves online.
The maximum number of 75151 devotees have registered for Kedarnath Dham Yatra. Ethics Infotech will soon make available the facility of online registration of passengers at Shri Hemkund Gurudwara in Rishikesh.
For the first time in Chardham Yatra, Uttarakhand government has made available the facility of online and offline registration simultaneously. Registration center has been opened at Sonprayag including Bus Terminal Compound Rishikesh, Rahi Motel and Railway Station of Haridwar.
Big change in Chardham registration system
A major change has been seen in the registration system that this time the devotees will get their registration details and QR code available on the mobile itself. Registration centers have been opened for the devotees who are not able to register through mobile. Here this work is being completed through kiosk and employees.
After registration, hand bands are being given to the devotees. On which QR code is available. Which can be checked anywhere on the travel route. As much as the data related to registration is being collected by the tourism department, it is also being made available to the concerned District Magistrate and SSP.
---
---
Published Date: April 27, 2022
---