Record Online Registrations for Chardham Yatra
---
---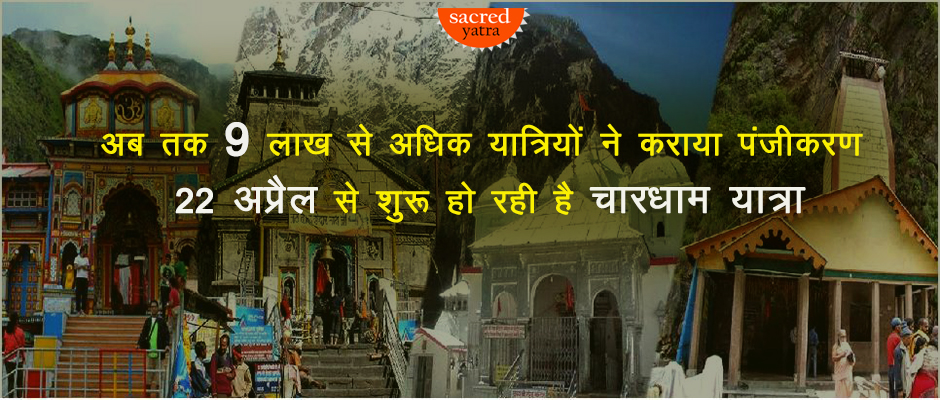 Record Registration for Char Dham Yatra
Lot of enthusiasm among the pilgrims is being shown regarding the registration of Char Dham Yatra 2023. Till now, 3.2 Lakh pilgrims have registered for Kedarnath Yatra and 2.6 Lakh for Badrinath Yatra.
Total 9 lakh pilgrims have done Chardham Yatra Registrations through various ways. In this, more than 3 Lakh pilgrims have registered for Kedarnath Dham. This time the tourism department has started two months advance registration for the pilgrims visiting Chardham Yatra 2023. Registrations for Kedarnath and Badrinath Yatra started from February 21.
---
---
---
---
Registration for Gangotri and Yamunotri Dham started from 20 Mar. Till now more than 1.5 Lakh registration has been done each for Gangotri & Yamunotri.
Opening Dates of Char Dham Shrines
Chardham Yatra 2023 will start from 22nd April. The doors of Kedarnath Dham will open on April 25, Badrinath on April 27. While according to tradition, the doors of Gangotri and Yamunotri Dham will open on the day of Akshaya Tritiya on April 22.
Ways to Register for Char Dham Yatra
Website: registrationandtouristcare.uk.gov.in
Send "Yatra" on WhatsApp: 8394833833
App : touristcareuttarakha
Toll Free Number : 01351364 (For other states)
Signboards in Seven Languages on Chardham Route
This time the tourism department will put up signboards in seven languages ​​in the city for the convenience of the travelers coming from other states on Chardham Yatra. The District Tourism Officer has written a letter to the Garhwal Commissioner seeking permission in this regard. In the first phase, 50 signboards will be installed.
Pilgrims come from the states of Gujarat, Maharashtra, Andhra Pradesh, Karnataka, Tamil Nadu, Punjab etc. in Chardham Yatra. Here, signboards containing information for the convenience of passengers are written in Hindi or English. Due to this, the pilgrims from South India are not able to read the guidelines related to travel.
District Tourism Officer Jaspal Singh Chauhan said that this time signboards will be installed in Tamil, Telugu, Oriya, Gujarati and Bengali for the convenience of these pilgrims. These signboards will be placed near the registration counters and at crowded places in the city. A letter has been written to the Garhwal Commissioner for permission.
---
---
Published Date: April 3, 2023
---