SDRF to ease down Char Dham Yatra
---
---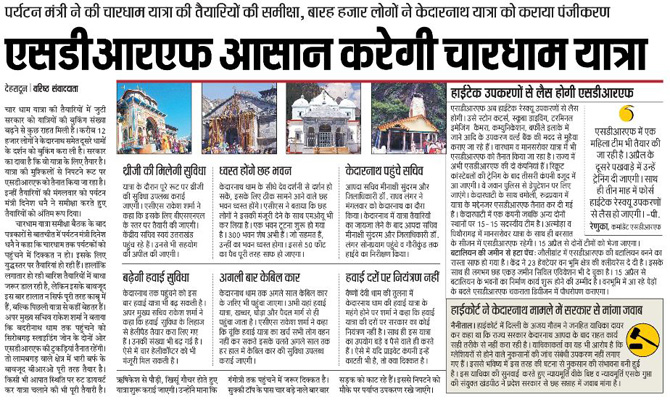 SDRF to ease down Char Dham Yatra
---
---
Uttarakhand Government finally get some relief as the number of bookings is increasing day by day. Around 12 thousand people have made the booking to Kedarnath along with three other Dhams. Government is ready for the yatra wthl all the arrangements being done on time. SDRF is being deployed on the route to deal with route related problems. Reveiwing the arrangements Tourism Minister Dinesh Dhanai declared the completion of arrangements.
Responding to journalists in a meet Dinesh Dhanai told work of the route is in full swing so make a hassle free yatra for the pilgrims. However, the recent intermittent unseasonal rains are disrupting the restoration work. Despite the weather conditions, the things are not only under the control but also better than last year scenario. Upper Chief Secretary, Rakesh Sharma stated told SDRF team will be deployed on both the sides of Sirobgad sliding zone which connects to Badrnath Dham. This time SDRF will be equipped with high tech equipments to ensure complete security. Despite the heavy snowfall in Lamgad region too BRO is active in the region. To deal with uncertain route problems, the administration is set with an alternative route to keep the yatra active.
Yatra will be started from Rishikesh following Pauri, Khirsu, Gauchar. He also told some interruption still persist on the Gangotri route where two big canals are repeatedly damaging the road route. However, efficient tools will be kept to combat with the hinderances. High Court has questioned Uttarakhand government in Kedarnath case.
3G services soon in Char Dam Yatra route
Now travellers will be able to surf with 3G speed during the yatra according to the state governments recent announcement. ACS Rakesh Sharma said the 3G service proposal is in the process for which the preparations will be done at BSNL level. State Secretary is also reaching Uttarakhand soon, the appeal will be made to him too, he added.
Air connectivity to improve
Speculations of high air connectivity is also in the air. Upper Chief Secretary told on account of better air connectivity helipads have been constructed. Which may lead to license to four helicopters.
6 houses to collapse
To offer direct view of Dev Darshani from the Kedarnath, 6 houses falling in between will be collapsed. ACS told OMU has been done for ts approval following which one house has removed leaving 300 houses yet to collapse. The houses of only agreeing ones will be removed which will result in clearance of 50 feet patch.
Aerial route to be the next
Kedarnath will also be accessible through the aerial cable cars. Currently the famous shrine can only be reached by air, mule, horse riding, or on foot. ACS Rakesh Sharma said because air travel costs too high which may not be affordable by all, to resolve that issue cable car has been proposed as an alternative.
News Src : Hindustan, Dehradun
---
---
Published Date: April 8, 2015
---