'Shiv Gatha' Mega Laser Show in Kedarnath
---
---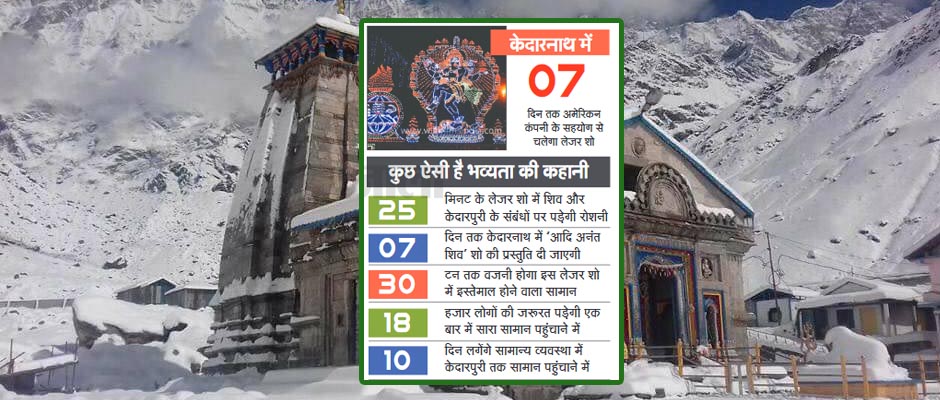 Mega Laser Show in Kedarnath
For the first time, the mega show of 'Shiva Gatha' will give a wonderful feeling in Kedarpuri. The American company's high-tech laser show 'Aadi Anant Shiva' preparations has been completed. Kadarpuri will celebrate the grandeur of this laser show for seven days in the celebration of opening of kapaat of Kedarnath Temple. There has never been any laser show at such a large level earlier in Kedarnath, special center of PM Narendra Modi's faith and interest.
---
---
---
---
The government is very excited about this program. It is preparing to start one day before the consolation, although it will be discussed before Panda Society. Kedarnath kapat are open on April 29. In this sense, the government has enough time to prepare.
With the help of an NRI, the government is going to organize this laser show. The related company of NRI has also mapped the Kedarnath temple for this program. The laser show will be presented on the wall on the left side of the Kedarnath Temple premises.
Insights of Laser Show in Kedarnath
– 25 minute laser show on Shiva and Kedarpuri connection
– 'Aadi Anant Shiva' show will be presented in Kedarnath for 07 days
– All equipments will be supplied from Hong Kong
– Goods weighing up to 30 tons will be used in this laser show
– 18000 people will be needed to deliver all the goods at one go
– It will take 10 days to deliver the goods to Kedarpuri in the general transportation
---
---
Published Date: April 11, 2018
---
Add Comments and Suggestions or Ask Questions about "'Shiv Gatha' Mega Laser Show in Kedarnath"
We would be glad if you can comment below and provide your valuable suggestions and feedback on 'Shiv Gatha' Mega Laser Show in Kedarnath. If this 'Shiv Gatha' Mega Laser Show in Kedarnath page have any wrong information/list or out of context content, then you can report us as well.
If you have any questions, you can also ask as in the following comments section. Our team will try to provide you answers/solutions.