Snow spell in Chardham and other higher peaks
---
---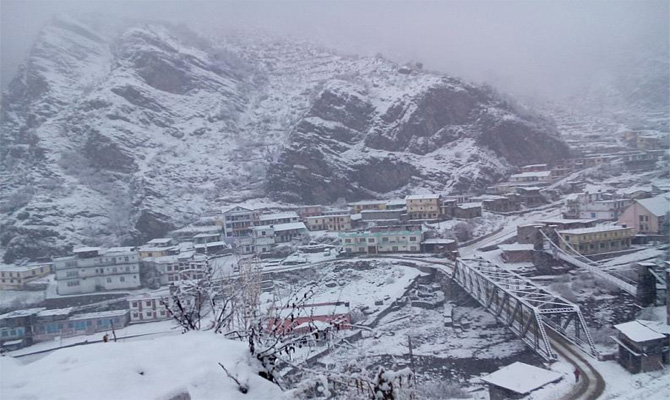 Snow spell in Chardham and other higher peaks
---
---
Uttarakhand was again in the spell of snow where several peaks of Garhwal mandal were covered with glittering shrouds of snow. The low-lying were seen bearing spurt of light rainfall bringing the mercury down. The changing inclement weather conditions held the region in the grip of chilly winds and dipped tempertaure retreating the winters. The intermittent snowfall in Kedarnath is taking a blow in the restoration work.
However, clouds dominated in Kumaun region too but didn't lead to rainfall. The Meteorological Department has forecasted that it is likely to rain and snow in mountain areas on Wednesday, particularly in Uttarkashi, Chamoli and Pithoragarh districts.
Due to western disturbances clouds descended in Garhwal on Tuesday and lashed the region with heavy rainfall. While Chardhams Badrinath, Kedarnath, Gangotri, Yamunotri and Hemkund Sahib were substantially covered with snow. Also several peaks in Chamoli, Uttarkashi and Rudraprayag districts were glittering in the snow. Dehradun, Haridwar, including other parts of Garhwal witnessed intermittent rainfall throughout the day. The temperature jumped 4 – 5 degrees Celsius bcause of heavy snowfall and rain in low lying areas. The sudden weather changes left the region in chills. Clouds were over Kumaun region too but witnessed no rainfall. Meanwhile, the weather officials said rain and snow in the mountain areas is not expected to stop on Wednesday either. Especially Uttarkashi, Chamoli and Pithoragarh districts over 3200 meters in height may receive up to 10 cm of snow. Dehradun and other areas can be partly cloudy.
News Src : Dainik Jagran, Dehradun
img src : uttarakhand.org
---
---
Published Date: April 9, 2015
---
Add Comments and Suggestions or Ask Questions about "Snow spell in Chardham and other higher peaks"
We would be glad if you can comment below and provide your valuable suggestions and feedback on Snow spell in Chardham and other higher peaks. If this Snow spell in Chardham and other higher peaks page have any wrong information/list or out of context content, then you can report us as well.
If you have any questions, you can also ask as in the following comments section. Our team will try to provide you answers/solutions.