Snowfall in Badrishpuri fascinated tourists
---
---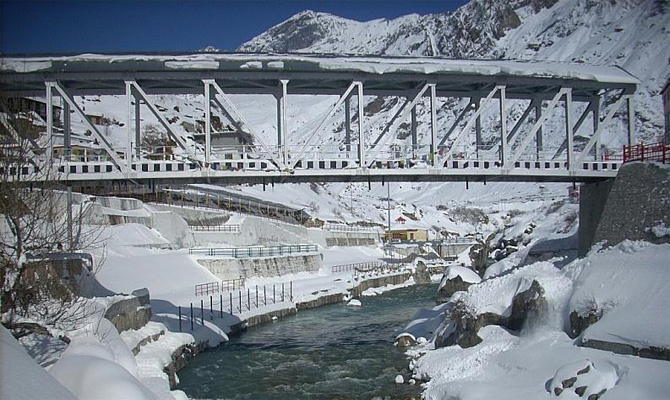 Snowfall in Badrishpuri fascinated tourists
Badrinath seems to be fascinated as the first sunbeam fell on the snow cliffed mountains top and on its steep slopes.The nature looked glorious which made the mountain ridges look attractive and glowing after receiving the blessings of God Badri Vishal. Devi Anand a 28 years old woman who got recently married to Mr. Abhay Anand was glaringly watching at the mystic beauty of the mountains .
Devi says that in the month of April too Badrishpuri is covered by the sheet of snow. It seems to be strange, that most of the travellers were unaffected by the death and destruction has happened earlier. More devotees arrived the Badri place this time as compared to last year. Due to heavy snowfall accounted in winter throughout, has affected the administration but a large number of travellers reaching here are overwhelmed by the beauty of the nature. Mr Abay Anand from Ambala (Haryana) said that he was quite hesitant to come here at first thought. Relatives were warning after the destruction took place in Uttarakhand. He says that he does'nt regret for his decision anymore. Badri dham his picture never seems to look pretty like this before. From the distance of Joshimath to Badridham the travellers are thrilled at the sight. The covering around the temple and the routepath has been made clean, but on the both sides of the road in the town the heel of snowfall is 5-7 feet.Hotels,Lounge,Shops are covered by the shrouds of snow.
The experience of Geet Aggarwal come from Aurangabad in Maharashtra with her parents is not different she says they have come here with hope and courage. District magistrate Mr. Ashok Kumar said that there will be no destruction due to the hilly passages that are surrounding Chamoli. The safeguards protection has been arranged by the SDRF and Police protection. He said that the place proved to be a remembering sight for the travellers.
News Source -Times of India, Dehradun.
img src: uttarakhand.org.in
---
---
Published Date: April 27, 2015
---
Add Comments and Suggestions or Ask Questions about "Snowfall in Badrishpuri fascinated tourists"
We would be glad if you can comment below and provide your valuable suggestions and feedback on Snowfall in Badrishpuri fascinated tourists. If this Snowfall in Badrishpuri fascinated tourists page have any wrong information/list or out of context content, then you can report us as well.
If you have any questions, you can also ask as in the following comments section. Our team will try to provide you answers/solutions.