Pilgrims to Take Badrinath Darshan with Token System
---
---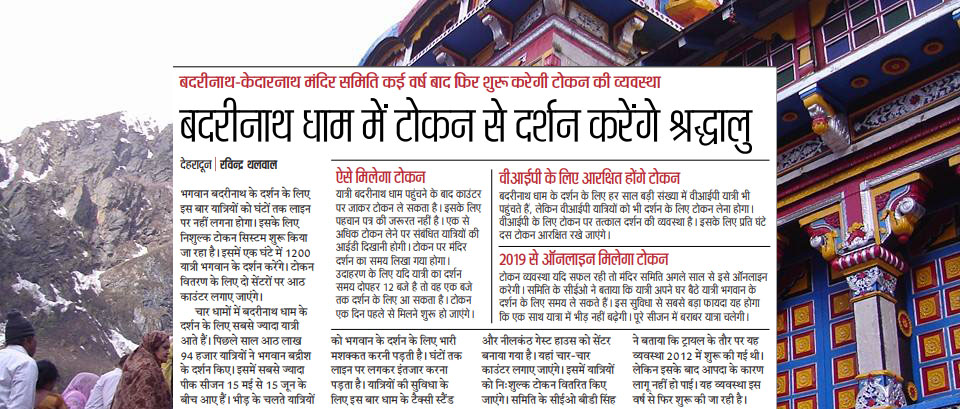 Pilgrims will take Badrinath Dharshan with Token system
This year passengers will not have to sit on the line for hours to take darshan of Lord Badrinath in Badrinath Dham. A free token system in Badrinath is being started for pilgrims to take darshan in sequence order. Total 1200 passengers will be able to take Badrinath darshan in one hour. Eight counters will be installed on two centers for token delivery. Badrinath kapat this year will be open on April 30.
---
---
---
---
Among Chardham, highest number of pilgrims visited the Badrinath shrine. In the last Chardham season, 8 lakh 94 thousand passengers visited Lord Badrinath. The highest peak season has arrived between May 15 and June 15. Because of the crowd, passengers have to make heavy efforts to take darshan of Lord Badrinath. Many pilgrims have to wait for hours on the line.
Counters for Token Distribution
Dham's taxi stand and Nilkanth Guest House have been made the center for the convenience of travelers. Four-four counters will be installed here. Free tokens will be distributed to the passengers. The committee's CEO, BD Singh, said that this arrangement was started in 2012 as a trial, but after this there was no effect due to the disaster. This system is being started again this year.
How To Get Token for Badrinath Darshan
After reaching Badrinath Dham, the traveler can take the token from the counter. It does not need an identity card. Taking more than one token, the ID of the passengers concerned should be shown. The time of darshan will be written on tokens. For example, if the passenger's visit time is at 12 o'clock in the afternoon, then he may come to see up to one o'clock. Token will start to be given one day before.
Token for VIP in Badrinath
VIP visitors also visit in large number every year to Badrinath Dham, but VIP travelers will too have to take a token for the visit. Instant viewing is available on the token for VIP. Ten tokens will be reserved per hour for this.
Online Token facility from 2019
If the token arrangement is successful, then the temple committee will make it online from next year. The CEO of the committee said that the passengers can take time for darshan at Badrinath Temple. The biggest advantage of this feature will be that there will not be a crowd in travel. There will be an equal crowd throughout the season.
---
---
Published Date: March 17, 2018
---