Toughest Pilgrimages in India
---
---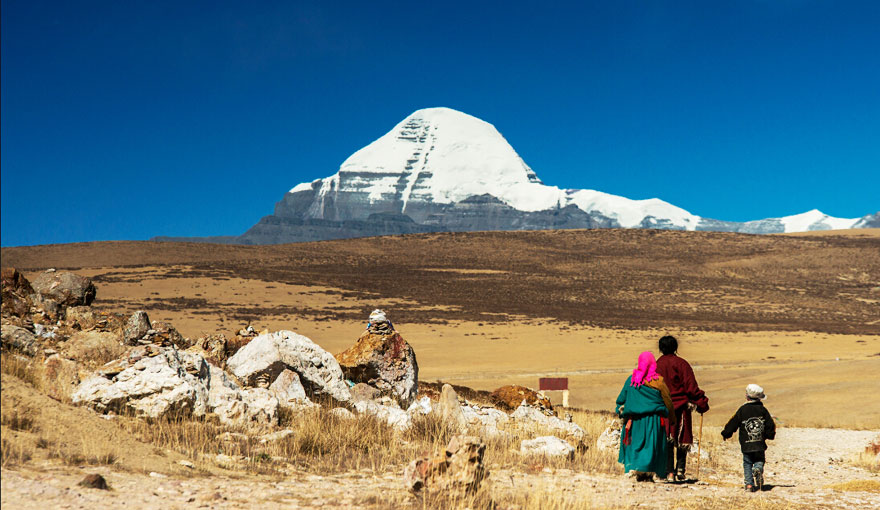 Kailash Mansarovar Yatra
India is a land which is known for its diverse culture and religion. It is the high devotional zest in people of India that can't stop them from traveling to some of the hardest pilgrimage in India.
8 Toughest Pilgrimages in India
There are many pilgrimage centers in India that are hard to access due to high altitude location or strenuous route. From taking the high altitude trek in Kedarnath to rocky uphill route in Shrikhand Mahadev nothing can shake the high spirituality towards the God Almighty that Indian people have.
Let us look at some of the highly reversed religious sites in India that are hard to travel
---
---
---
---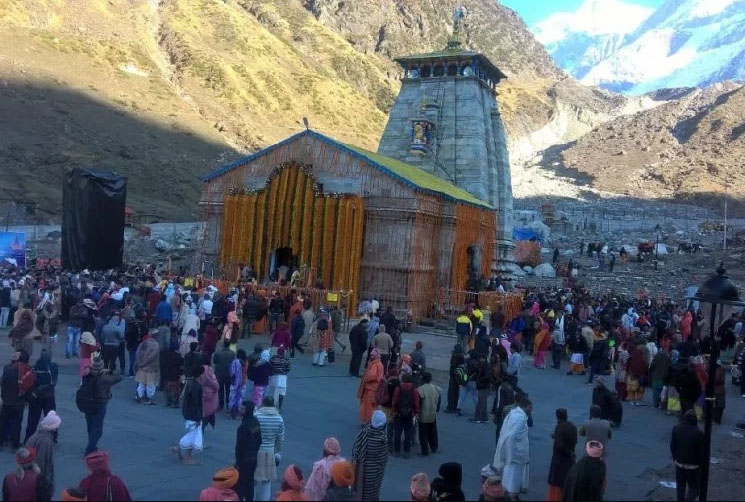 1. Kedarnath
Sitting in the laps of Garhwal Himalayas, Kedarnath is the prominent site of Chota Chardham Circuit in Uttarakhand. The divine temple of Kedarnath is one the twelve Jyotirlinga and Panch Kedar temples. Devotees very religiously worship Lord Shiva as 'Lord of Kedarkanth' at the Kedarnath temple. On the 14 km trek trail from Gaurikund to Kedarnath pilgrim not only rejoice the spiritual atmosphere but also the enclosing peaceful nature of the region.
Opening & Closing Date of Kedarnath
Location : Rudraprayag district, Uttarakhand
Best time to Visit : May to June & Sept to Oct
Height : 3,584 meters
Nearby Attractions : Chorabari Tal, Sonprayag, Bhairavnath Temple, Deoria Tal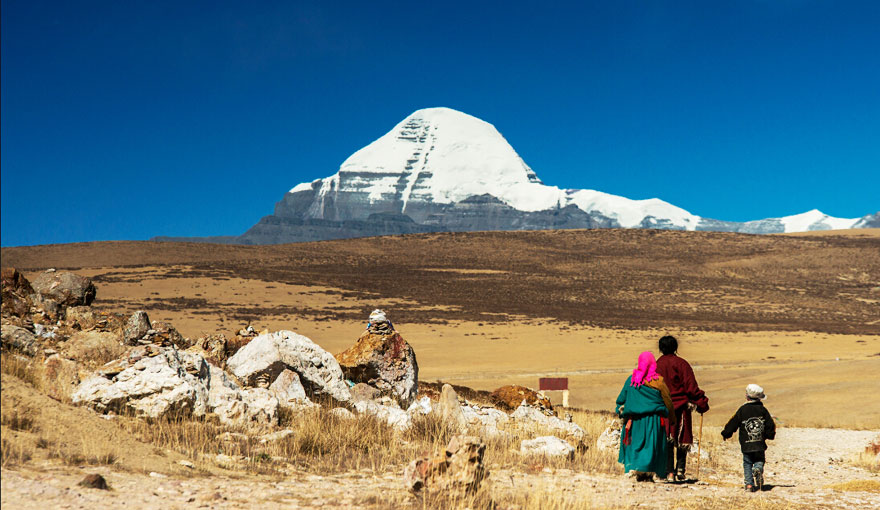 2. Kailash Mansarovar
Perched at a height of 6,638 meters; Mt. Kailash is a renowned holy site of India that is located in Tibet. The scenic land of Mansarover is located at a distance of 20 km away from the Mt.Kailash. People of Hindus, Buddhists, Jains and Bon culture take the Kailash Mansarover Yatra to find solace in the beautiful setting of this place. The yatra is incomplete without taking a holy dip in the Mansarover Lake and parikarma of Mt. Kailash. Mansarover Lake is the main attraction of Kailash Mansarover that leave people spellbound.
Location : South-West corner of Tibet Himalayas
Height : 21,778 feet
Best time to Visit : April to June and September to October
Major Attractions : Lake Mansarover, Gauri Kund, Kailash Parikarma, Lake Rakshatal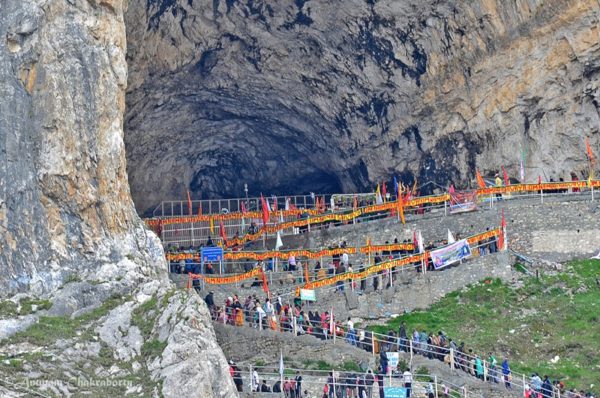 3. Amarnath Cave Temple, Jammu & Kashmir
One of the prominent cave temple in India, Amarnath Cave temple looms at an elevation of 3888 m. It is situated in Jammu & Kashmir. Devotees very religiously pay homage to the magical Shiva Linga, which is formed naturally out of snow. Being one of the 18 Maha Shakti Peethas makes Amarnath Cave temple more glorious. People in full swing take the tough Amarnath Yatra annually.
Location : Jammu & Kashmir, 141 km from Srinagar
Height : 3,888m
Best Time to Visit : June to August
Nearby Attractions : Baltal, Pahalgam
4. Hemkund Sahib
The star shaped gurudwara, Hemkund Sahib is the highest Gurudwara of Sikh tribe that is located in Chamoli district of Uttarakhand. This Sikh pilgrimage site is surrounded by dense greenery in the splendid backdrop of Himalayas. Hemkund Sahib remains closed for winter period from October to April. Devotees take holy dip in the freezing cold water of the Hemkund lake. From the month of May the pilgrimage tour to Hemkund start in which devotees from all around the globe come and seek ashirwad of Guru Gobind Singh.
Opening & Closing Date of Hemkund Sahib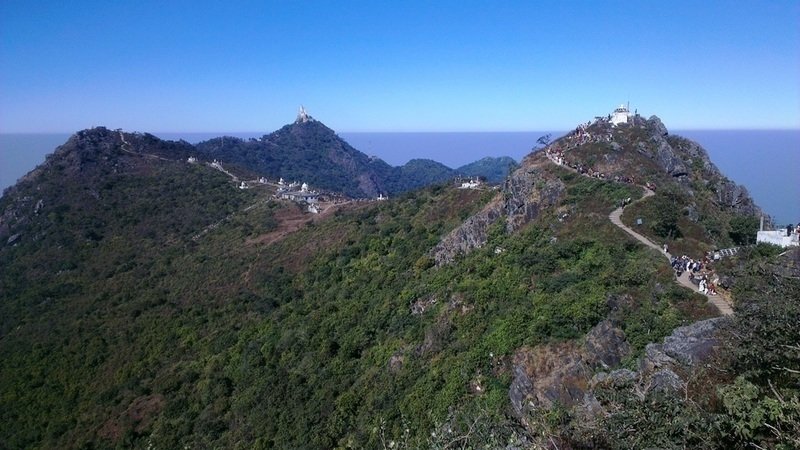 5. Shikhar Ji Temple
The beautiful architectural temple of Shikar Ji is located atop Parasnath Hill of Giridih district of Jharkhand Indian state. It is one of the most paramount pilgrimage site (Jain Tirtha) for Jains. It is believed that at this hallowed place twenty out of twenty four Jain Tirththankaras obtained Moksha. To reach the temple devotees take the tedious 28km trek route full of steep slopes from Maduban (base camp for the trek).
Location : Parasnath Hill of Giridih district, Jharkhand
Height : 4,480 ft
Best time to Visit : October to March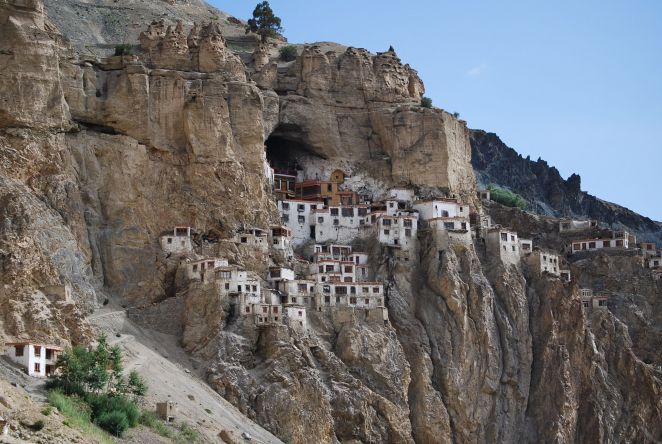 6. Phugtal, Ladakh
Wrapped in the serene surroundings of Zanskar Region of Ladakh, Phugtal or Phuktal is a Buddhist Monastery that is reachable only on foot. The monastery is fabricated around a natural cave and it is believed that in the past many scholars, sages and monks resided at this cave. Phugtal is a very soulful pilgrim spot for people looking for spiritual retreat and peace.
Location : Lungnak Valley in south-eastern Zanskar
Best Time to Visit : July to September
Nearby Attractions : Ammu & Cha villages, Bardan monastery
Height : 3,850 meters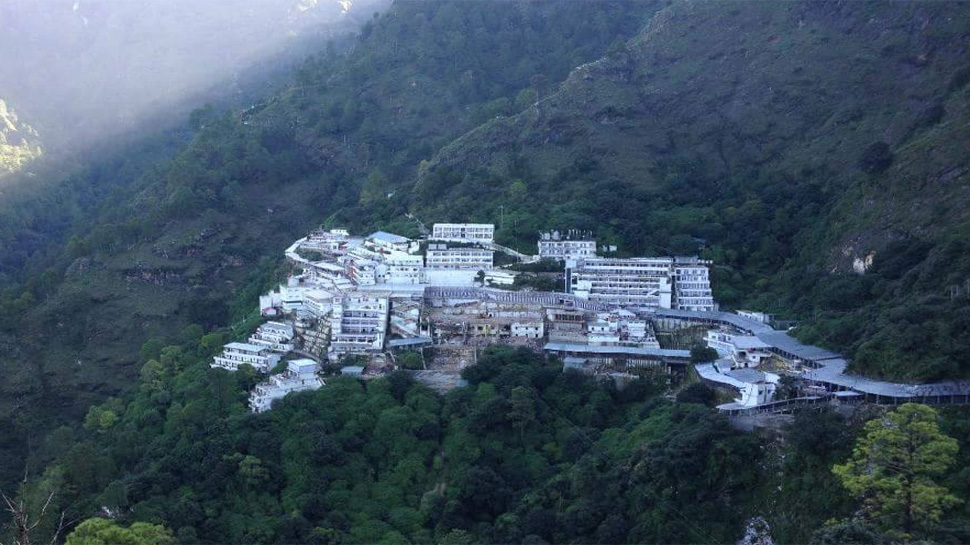 7. Vaishno Devi Temple, Jammu & Kashmir
The holy shrine of Vaishno Devi is placed in Katra in Jammu region of Indian state Jammu & Kashmir and is devoted to Indian Goddess. Maa Vaishno Devi is enshrined in the cave as pindis (stone representation). Devotees take the Vaishno Devi Yatra every year with high devotional spirit. The temple is accessible by arduous trek of 13 km from base camp Katra. Ponies, palkies/horses and even helicopter services are also available.
Location : Trikuta Mountains, Katra in Jammu & Kashmir
Best Time to Visit : October-July
Height : 5,200 ft
Nearby Attractions : Ardh Kuwari Cave, Bhairavnath temple, Katra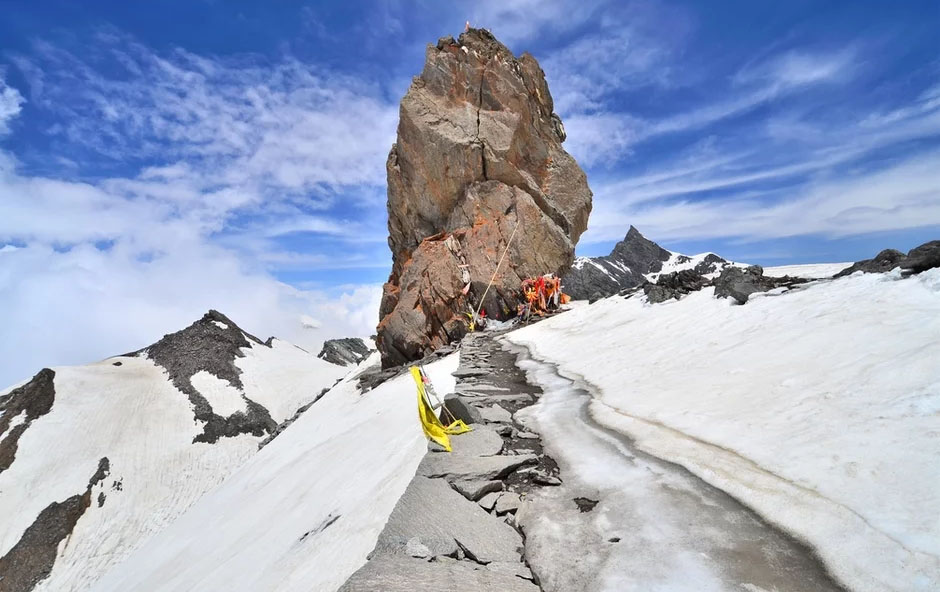 8. Shrikhand Mahadev
Located in Kullu District of Himachal Pradesh, Shrikhand Mahadev is one of the famous pilgrimage sites in India that is close to the heart of Lord Shiva devotees. The 75 feet Shivalingam enshrined here is one of the five Kailash (Shivling). Shrikhand Mahadev trek is tough but full of adventure and thrill. On the trek trail pilgrims enjoy the lavish greenery amidst the charming Himalayas.
Location : Kullu, Himachal Pradesh
Height : 5,227 meter
Best time to Visit : June and July
Hard yet the feeling of witnessing these pious sites is incredible!
---
---