Tungnath will open on 20 May & Madmaheshwar on 11 May
---
---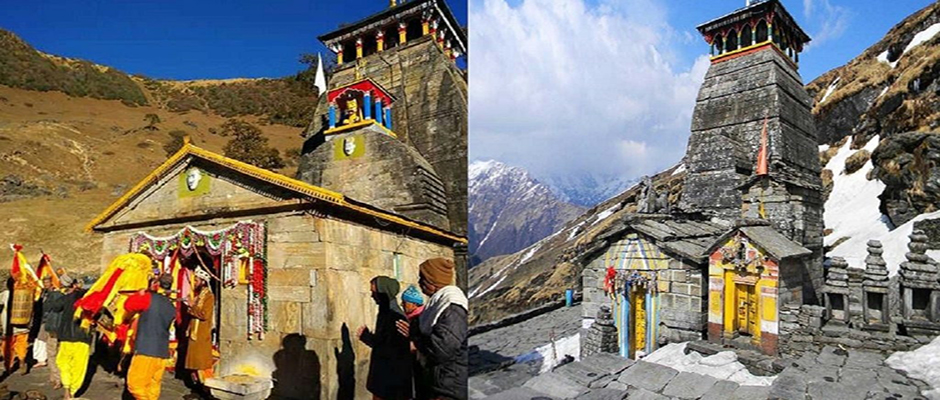 Tungnath & Madmaheshwar Temple Opening Date
On the sacred festival of Baisakhi, on the basis of Panchgarna the opening date of Tungnath Temple and Mahmaheswar was declared. The doors of Second Kedar Madmaheshwar will be open on 11 May at 12:00 pm and the Doors of Third Kedar Tungnath will be open on 20 May at 11:30 am.
---
---
Madmaheshwar Temple will open on 11th May at 12:00 pm
On the basis of Panchgarna, God Madmaheswar will shift from garbhgrah to Sabha Mandap on 07th May. Then the villagers will adorn food to God made from a new grain dish. In the local language, it is called "Chhabri festival". On May 08, the Doli of Lord Madmaheswar will remain in the same place in Ukhimath. On May 09, the Doli of Madhyamaheshwa will reach Ransi village, on May 10 from Ransi Village to Gondar Village and on 11th May Doli will reach to Madmaheshwar Temple.
Portals of Third Kedar Tungnath will open on 20th May at 11:30 pm
Acharya Bagesh Ling has selected 20 May to open Tungnath doors. According to him, the doli of tungnath will be shifted to the Bhootnath temple from Makkumath temple. On 19th May they will reach to Chopta. On 20th May they will leave for Tungnath Dham. After this, the portals of the third Kedar Tungnath Temple will be opened for the devotees.
---
---
Published Date: April 14, 2020
---
Add Comments and Suggestions or Ask Questions about "Tungnath will open on 20 May & Madmaheshwar on 11 May"
We would be glad if you can comment below and provide your valuable suggestions and feedback on Tungnath will open on 20 May & Madmaheshwar on 11 May. If this Tungnath will open on 20 May & Madmaheshwar on 11 May page have any wrong information/list or out of context content, then you can report us as well.
If you have any questions, you can also ask as in the following comments section. Our team will try to provide you answers/solutions.