TV serial coming soon to show Kedarnath restoration
---
---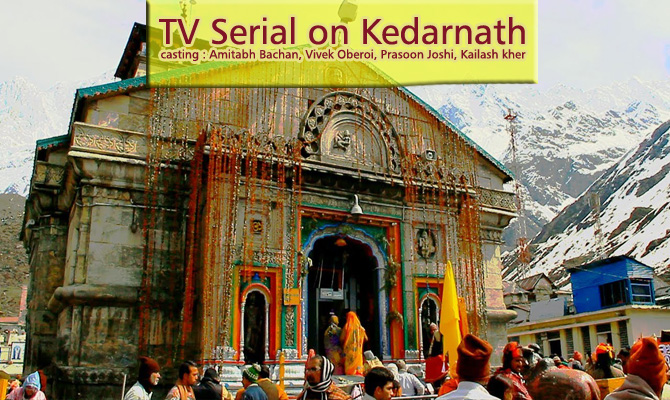 TV serial coming soon to show Kedarnath restoration
---
---
In the on-going attempts to pull Char Dham Yatra pilgrims from all over the world, the state is now all set to make a 12-episode TV serial covering the restoration process done bringing back the devastated parts into the picture which were ravaged by 2013 flashfloods and landslides. Among those roped in for the effort are actor Amitabh Bachchan, lyricist Prasoon Joshi, script writer Devdutt Patnaik, singer Kailash Kher and actor Vivek Oberoi. While all others are expected to be present in Kedarnath soon, the state is still negotiating rates with Bachchan, who has reportedly sought too high a fee for the purpose.
The serial will aim at picturising the stages how valley has been restored completely till date reflecting to be out of danger zone and hence a safe yatra. Shooting for the film is expected to begin on April 15 in Kedarnath; a first curtain raiser will be shown on April 24, at the temple site. The crew is expected to be flown into the site.
Additional chief secretary Rakesh Sharma said, "The government has left no stone unturned to revive the damaged regions as soon as possible. The work which might have taken years to restore has been completed in just 2 yrs with continuous hard work. Several additional arrangements too have been made like a one-acre helipad has been created at the site, and big helicopters have been landing with huge construction machines, even in the harshest winter. Through this serial we want to spread the message of safe yatra and our efforts in making it possible so soon. "
News Src : Times of India, Dehradun
img src : Youtube
---
---
Published Date: April 7, 2015
---
Add Comments and Suggestions or Ask Questions about "TV serial coming soon to show Kedarnath restoration"
We would be glad if you can comment below and provide your valuable suggestions and feedback on TV serial coming soon to show Kedarnath restoration. If this TV serial coming soon to show Kedarnath restoration page have any wrong information/list or out of context content, then you can report us as well.
If you have any questions, you can also ask as in the following comments section. Our team will try to provide you answers/solutions.