Two Lane Chardham roadmap ready
---
---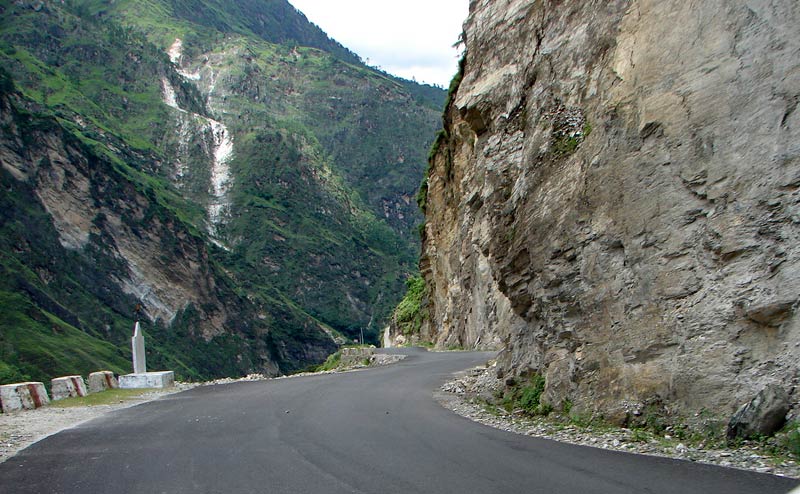 Road towards Badrinath
---
---
The government has prepared road map for Tanakpur-Pithoragarh in collaboration with Roadways and Highway Ministry under the proposal of two-lane roads in chardham. The scheme worth Rs. 11697.317 is finalised for 889 km roads in the state.
On Friday, the officers of the department gave presentation on yatra route to CM Harish Rawat and Union Minister Uma Bharti. CM Rawat said the state is linked to tourism industry and hence the priority should be given to find the solution of earthquake affected areas after complete restoration work. To make the yatra better thoughts should be given on building tunnels, bypasses and elevated roads. Union Minister told officers of the department that medicinal plants will be planted on the boundaries of proposed roads under National Mission of Clean Ganga. Meanwhile, Chief Engineer of the department AK Srivastav gave presentation on the scheme. CM said Roshanabad-Biharigad national highway will be connected. On account of upcoming Ardhakumbh He laid emphasis on completing two lane work instead of four lane.
Amount funded for route construction
Rishikesh-Badrinath route : 2073.65 cr
Joshimath-Badrinath bypass route : 1329.37 cr
Rudraprayag-Gaurikund : 754.08 cr
Rishikesh-Dharasu-Yamunotri : 1320.53 cr
Tunnel/bridge between Dharasu-Yamunotri : 1751.65 cr
Dharasu-Gangotri route : 1979.45 cr
Tanakpur-Pithoragarh route : 1409.33 cr
Whole scheme : 889 km
News Source : Hindustan, Dehradun
---
---
Published Date: July 4, 2015
---
Add Comments and Suggestions or Ask Questions about "Two Lane Chardham roadmap ready"
We would be glad if you can comment below and provide your valuable suggestions and feedback on Two Lane Chardham roadmap ready. If this Two Lane Chardham roadmap ready page have any wrong information/list or out of context content, then you can report us as well.
If you have any questions, you can also ask as in the following comments section. Our team will try to provide you answers/solutions.