US technology will make Kedardham journey easier
---
---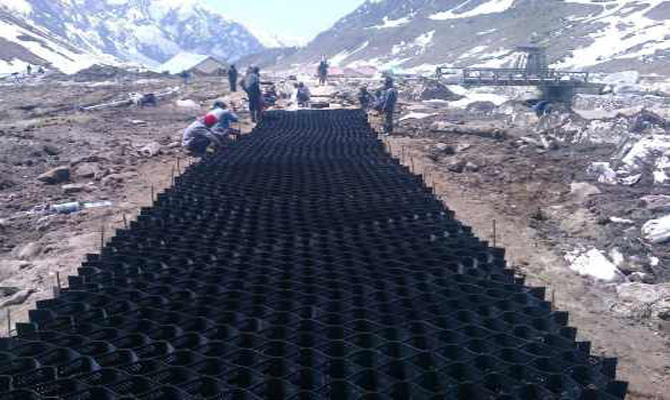 US technology will make Kedardham journey easier
---
---
The Geo cell technique used in America to construct path on swamp areas will also be adopted by India now in Kedarnath. Kedarnath is the first place to implement the US technique in the country.
The Geo cell technique is used to make the swampy ground safe for the construction of road. IIT Roorkee also found the technique suitable for Kedarnath. The place undergoing the rebuilding phase after disaster will have the stretch from MI-26 helipad to Valley bridge built with geo cell technique.
A short distance path was built using the technique and a pokland machine was made pass by it for a trial. After the successful trial, the district magistrate gave green signal for the further construction of road.
The principal of Nehru Institute of Mountaineering (NIM), Col Ajay Kothiyal said he is helping the IIT Rorkee alumnus professor Sandesh Adelkar in building the geo cell technique supported roads.
News Source : Amar Ujala, Rudraprayag
---
---
Published Date: May 13, 2015
---
Add Comments and Suggestions or Ask Questions about "US technology will make Kedardham journey easier"
We would be glad if you can comment below and provide your valuable suggestions and feedback on US technology will make Kedardham journey easier. If this US technology will make Kedardham journey easier page have any wrong information/list or out of context content, then you can report us as well.
If you have any questions, you can also ask as in the following comments section. Our team will try to provide you answers/solutions.