Uttarakhand facing challenges in eco-tourism
---
---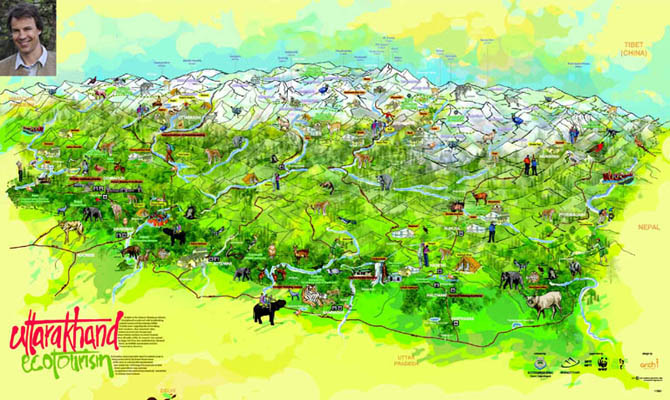 Uttarakhand facing challenges in eco-tourism
---
---
A workshop on 'Sustainable Tourism Management in Mountain Landscapes of Himalayas' was organised at the Unesco Centre of Wildlife Institute of India on Friday. Expert seemed concerned over the dismal set of standards for tourists, and lack of studies that should have been carried out to research the carrying capacity of different spots.
Raising concern Keith Bosak, associate professor, college of forestry and conservation, University of Montana, said, "I have been coming to Nanda Devi Biosphere since 1994, bringing students of various universities of US here. While the villagers earn a living from handicrafts, students too learn about conservation, of living with limited resources. But it pains me to see that local people have lost their livelihood and grazing rights after the area became protected forest. The local people are sandwiched between the national park and a dam. They must be offered a means of livelihood through tourism."
"People have lost connect to their land, and many are migrating. Regulated tourism can connect people to their land and boost conservation. It is high time that the pilgrims too learnt the values of conservation and eco-tourism.",Sejal Worah of World Widllife Fund said
The director of eco-tourism,Rajiv Bhartari, seemed hopeful as the forest department is somehow managing regulated tourism at some sites but emphasised on much more that needs to be done. He added, "Valley of Flowers is not open at night. Even for Gangotri National Park, more than 150 tourists are not permitted to enter in a day. The department is also making efforts to provide training to selected people in tourism. However, this needs to be taken up at a bigger level, and additional resources are needed for that."
News Src : Times of India, Dehradun
img src : Garhwal Post
---
---
Published Date: February 27, 2015
---
Add Comments and Suggestions or Ask Questions about "Uttarakhand facing challenges in eco-tourism"
We would be glad if you can comment below and provide your valuable suggestions and feedback on Uttarakhand facing challenges in eco-tourism. If this Uttarakhand facing challenges in eco-tourism page have any wrong information/list or out of context content, then you can report us as well.
If you have any questions, you can also ask as in the following comments section. Our team will try to provide you answers/solutions.